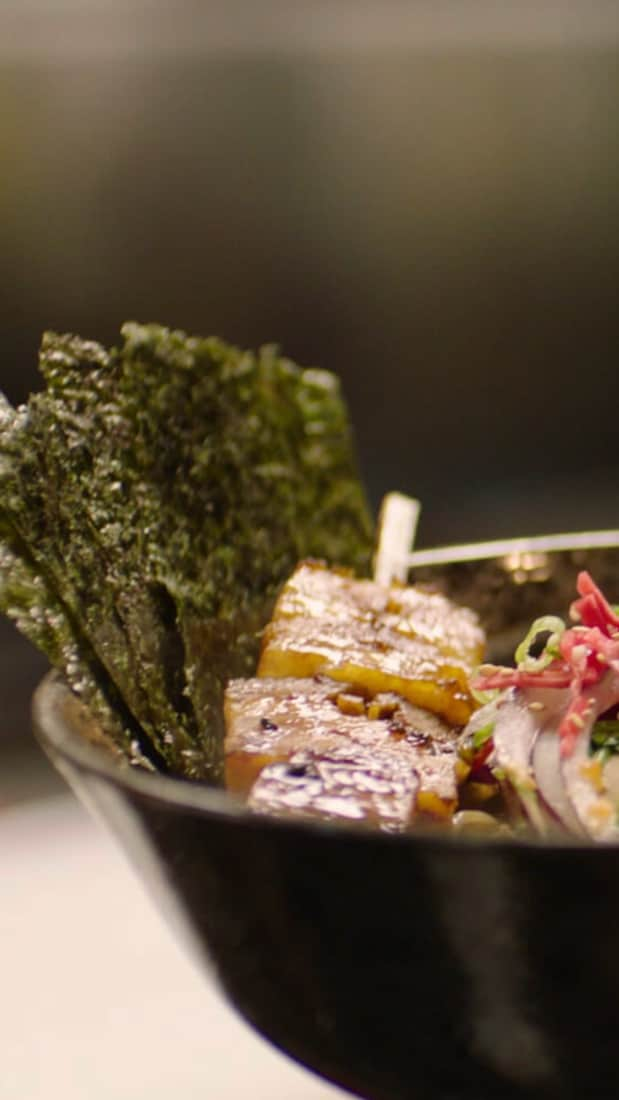 BASIL FRIED RICE
edamame, scallion, cucumber, thai basil, red onion, egg, jasmine rice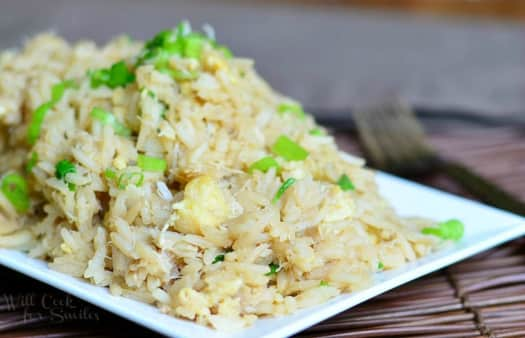 KATSU CURRY
Panko crusted and fried chicken breast, Hopstix vegetable curry, jasmine rice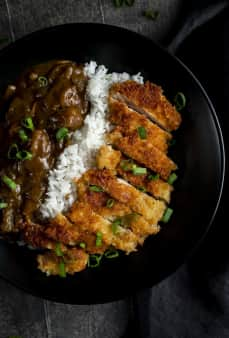 Thai Spaghetti
stir-fried spaghetti, bell peppers, onion, basil, garlic chili sauce, green beans (add $4 for tofu or chicken)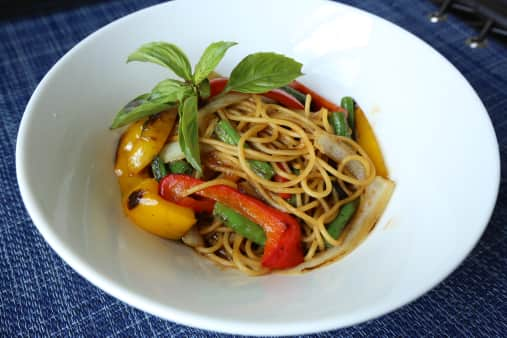 MISO RAMEN
savory bone broth, scallion, pork belly, soft-boiled egg, ginger, red onion, spinach, nori seaweed, sesame seed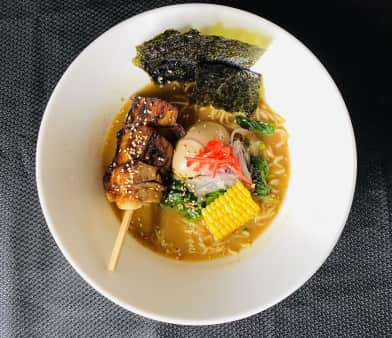 ROBATA BOWL
jasmine rice spring mix, carrot, cucumber, red onion, ginger dressing with your choice of robata grilled protein.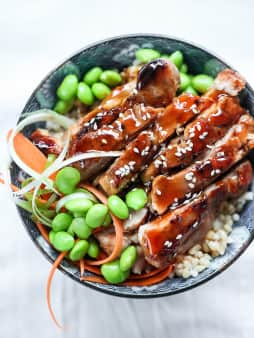 SUPERBOWL
sashimi, grilled pork belly, unagi eel, scallion, masago roe, spring mix, sushi rice, ginger, sushi rice, wasabi vinaigrette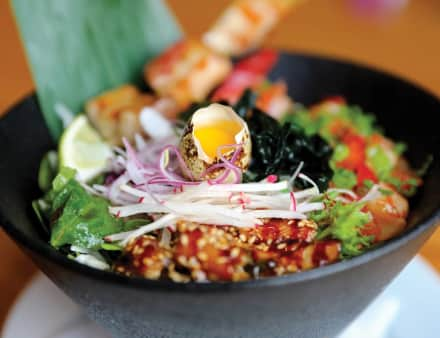 SOTO CURRY
Vegan coconut broth, Indonesian spices, potatoes, belinjo veggie crackers, sambal, jasmine rice, fried shallots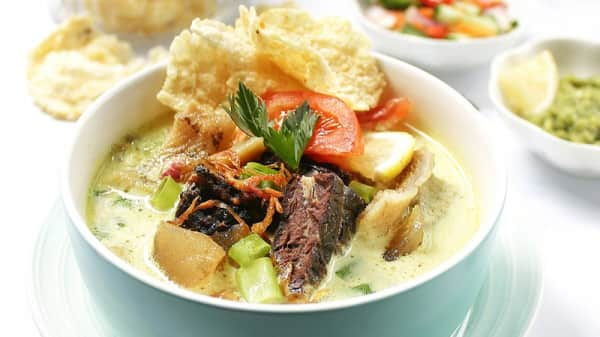 BLUEFIN POKE
bluefin tuna, avocado, spring mix, sushi rice, seaweed , sesame seed, wasabi vinaigrette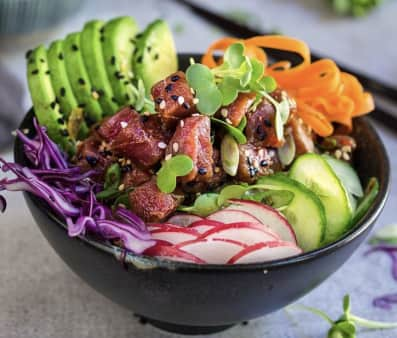 GRILLED CHICKEN SANDWICH
grilled chicken, cilantro oil, house cheese sauce, fried shallots, tomato, house pickles, ciabatta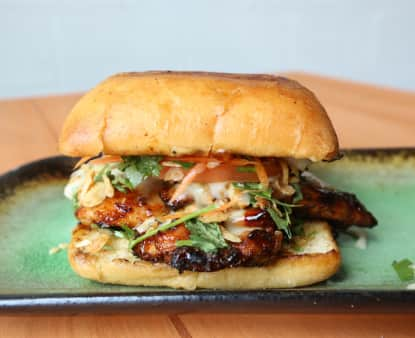 HOPSTIX BURGER
Hopstix 1/2lb Braveheart blend, spring mix, house cheese sauce, tonkatsu sauce, brioche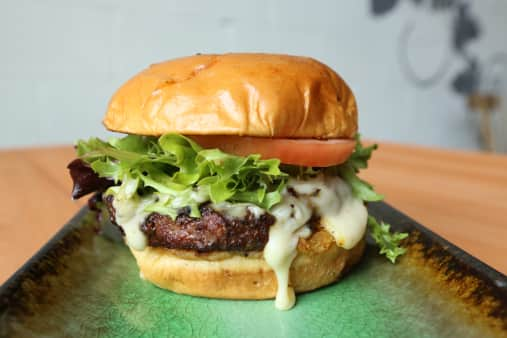 ASIAN CHOPPED SALAD
red and green cabbage, carrots, cilantro, watermelon radish, edamame, wonton skin, candied almonds, sesame soy dressing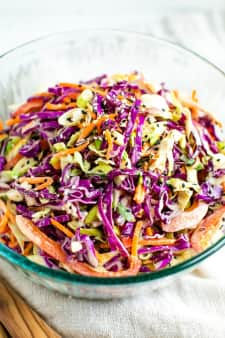 BAKED MUSSELS
green mussels, scallions, sesame, red onion, sweet soy mayo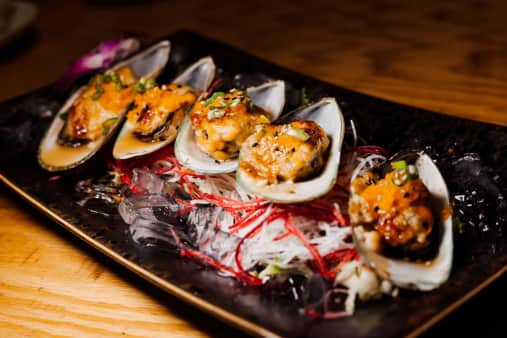 CHICKEN SATAY
robata grilled chicken skewers (8oz), lemongrass, Indonesian peanut sauce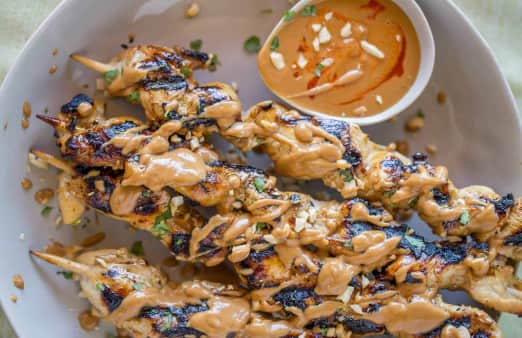 DUMPLINGS
Choice of steamed or fried chicken & veggie dumplings, or veggie dumplings served with house bulldog sauce.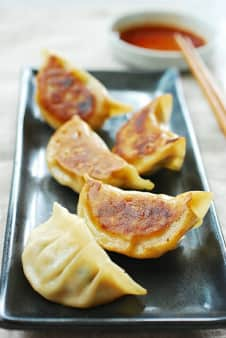 CALAMARI
beer battered and fried calamari served with sweet chili sauce
CURRY FRIES
handcut idaho potatoes, Hopstix curry spice, spicy mayo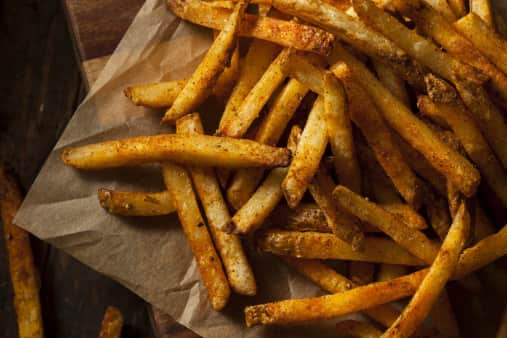 H.F.C.
beer battered and fried chicken breast nuggets, asian spices, sweet chili dipping sauce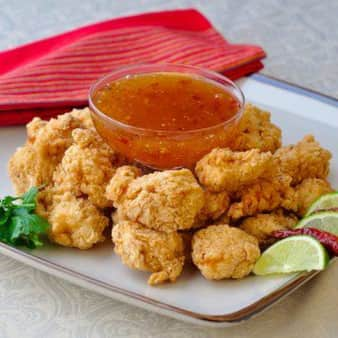 SOUTHEAST WINGS
1lb wings, fried and glazed in turbinado sugar, fish sauce, garlic, cilantro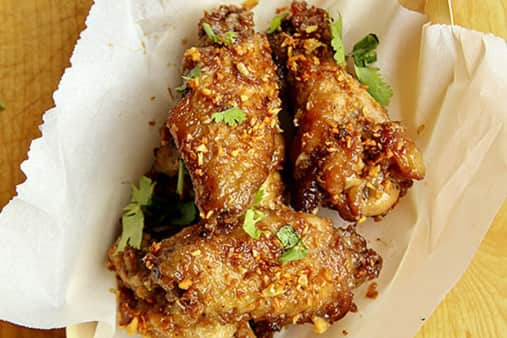 BAO
2pcs of steamed pork belly or chicken baos.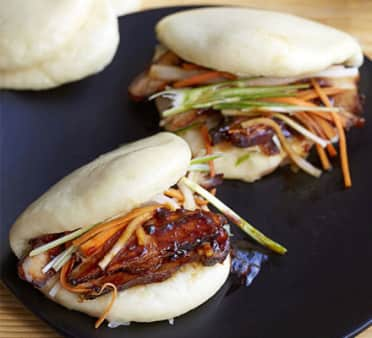 TACOS
3pcs corn tacos, lettuce, sesame seeds, avocado, cucumber, spring mix, miso dressing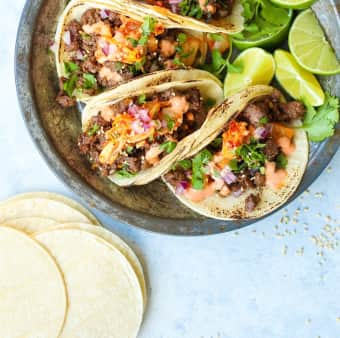 Tuna Tataki Salad
seared bluefin tuna, spring mix, avocado, cucumbers, carrots, candied almonds, watermelon radish, wasabi vinaigrette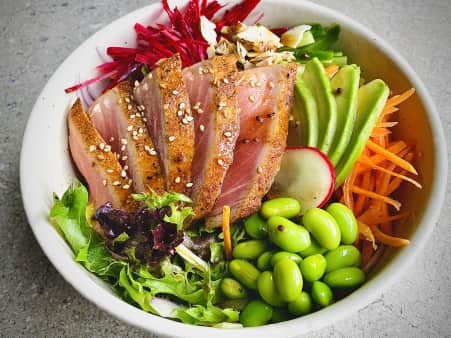 YELLOW TAIL / OZ
Description: • Sashimi Grade Yellowtail Loin. • Rich oily texture. • Product of Japan. • Price per oz.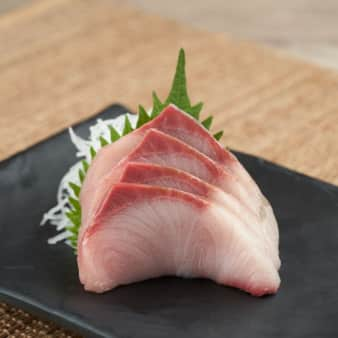 HOKKAIDO SCALLOPS/OZ
Description: • Sashimi Grade. • Product of Japan Hokkaido. • Promotes heart and brain health due to its content of Omega-3 fatty acids and antioxidant astaxanthin. • Taste like ocean with delicate smooth texture. • Price per oz.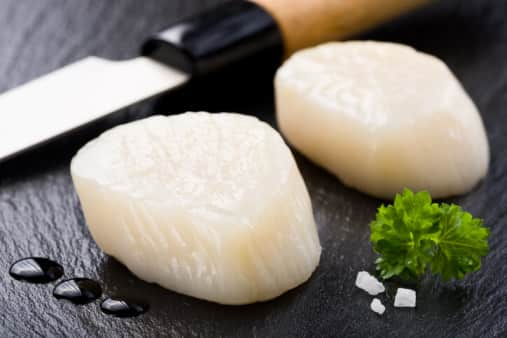 COLD JELLY FISH/OZ
Description: • sesame-flavoured jellyfish. • a refreshing and delicious side dish. • delightfully crunchy. • serve chilled or at room temperature. • price per oz.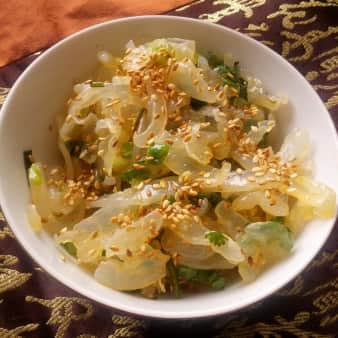 BLUEFIN TUNA/OZ
Description: • The most exquisite fresh tuna quality available. • Be prepared to get your best knife out to entertain your family and friends! • Aquaculture – Ranching (Caught wild, Sustainable!) • Keto-friendly, nutrient-rich meat (Omega-3, omega-6, omega-9) • Price per oz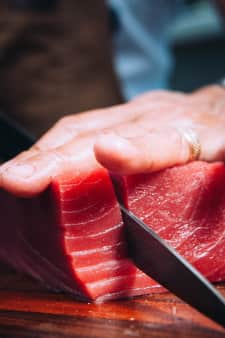 SURF CLAMS/OZ
Description: • Sashimi Grade. • Has a mild aroma and taste which slowly becomes more prominent as it is chewed. • The flesh is soft and firm, and should be enjoyed slowly to allow the sweet flavors and aromas to be released during consumption.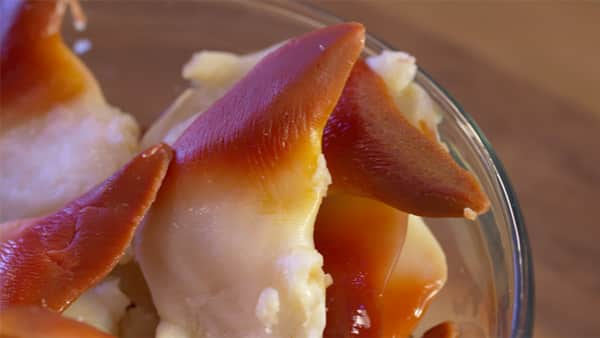 BLUEFIN TORO/OZ
Description: • Ultimate sashimi experience • High fat content! Buttery, melt in your mouth. • Sustainable Bluefin Tuna • Keto-friendly, nutrient rich-meat (Omega 3, Omega 6, and Omega 9) • Price per oz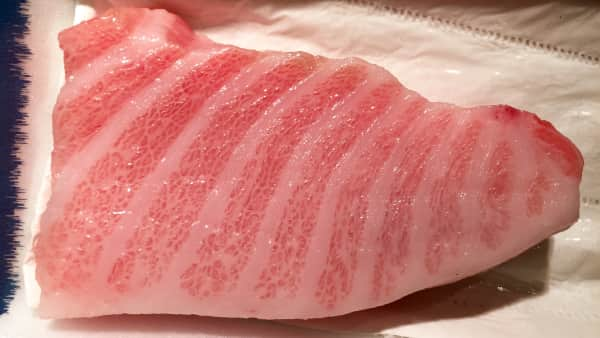 SALMON/OZ
Description: • Sashimi Grade • Thick meaty fresh filets • Stands well to any preparation • Consistent in quality, taste and availability • Promotes heart health and circulation (Omega-3) • Price per oz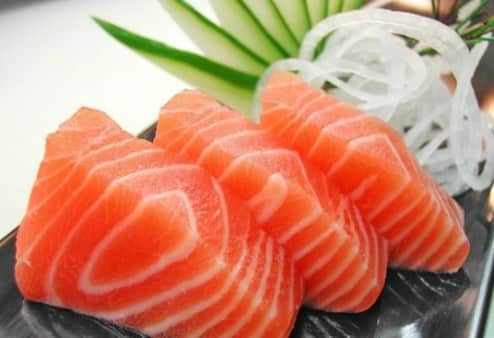 HAMACHI CRUDO
Yellowtail, serrano peppers, cilantro, yuzu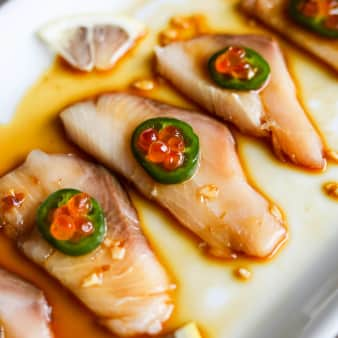 ROBATA PORK BELLY
Robata-grilled pork belly (1 skewer), house charsiu sauce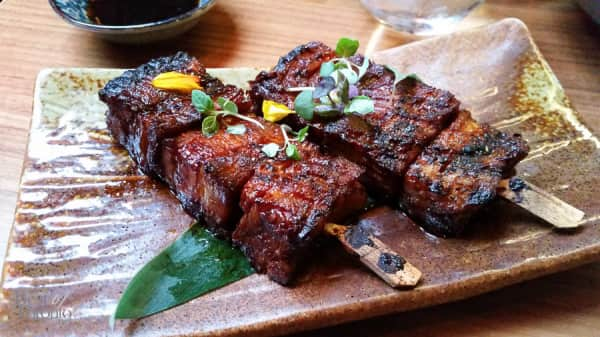 ROBATA ELLIJAY MUSHROOM
Robata-grilled local mushrooms (1 skewer), house tare sauce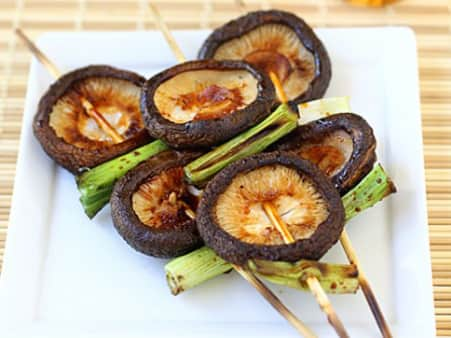 ROBATA CHICKEN
Robata-grilled natural chicken breast (1 skewer), house tare sauce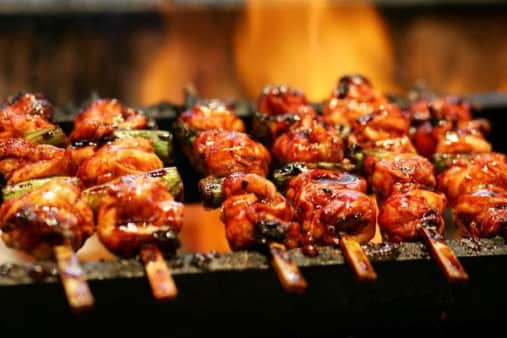 ROBATA SAUSAGE
Robata-grilled kurobuta sausage (2 sausages)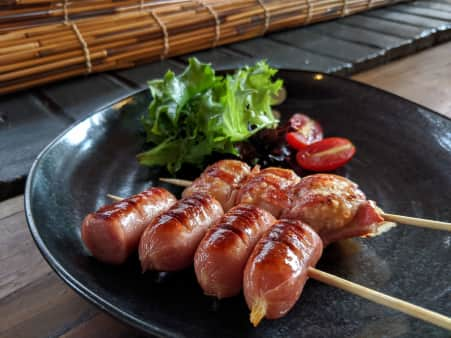 ROBATA MISO DUCK
Robata-grilled duck breast, house tare sauce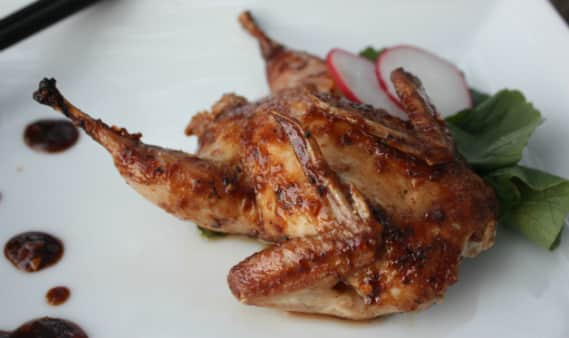 ROBATA BACON-WRAPPED SCALLOPS
Robata-grilled bacon-wrapped scallops (4 skewers)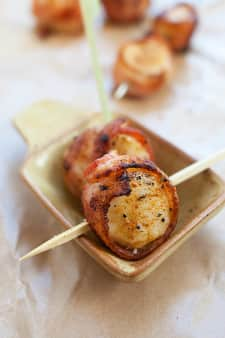 ROBATA BLUEFIN TUNA
Robata-grilled bluefin tuna loin (1 skewer), house tare sauce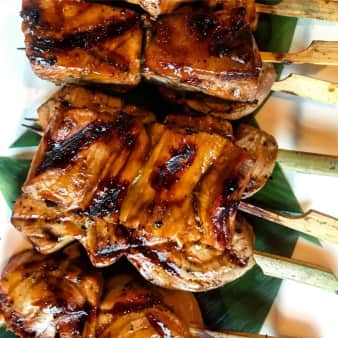 ROBATA SHISHITO
Robata-grilled shishito pepper (1 skewer), house tare sauce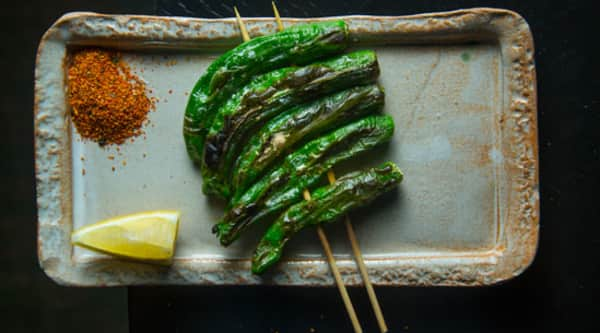 ROBATA CORN
Robata-grilled corn (1 skewer), house butter sauce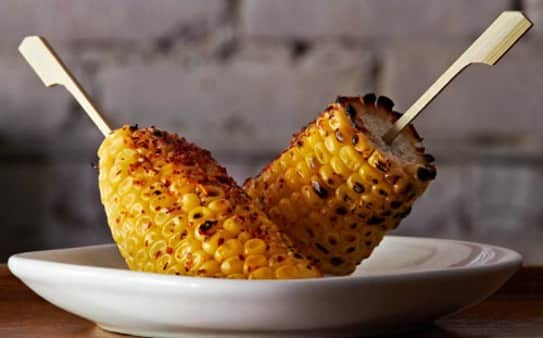 ROBATA QUAIL
Robata-grilled whole quail, house tare sauce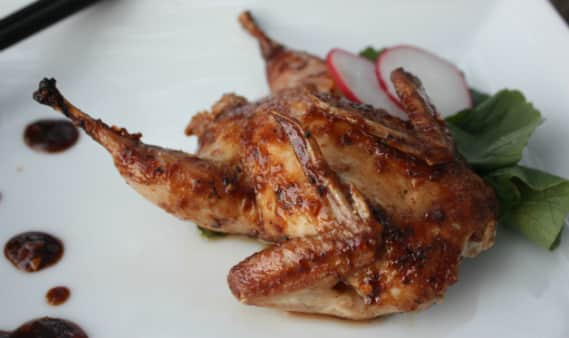 ROBATA SALMON
Robata-grilled salmon (1 skewer), house tare sauce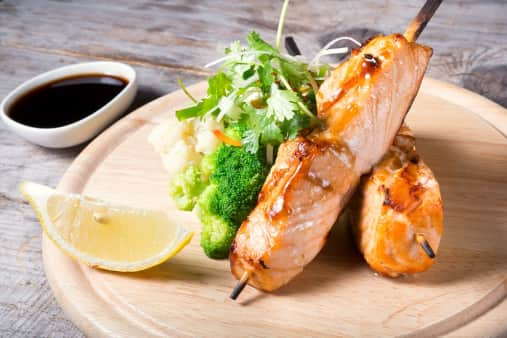 ROBATA LAMB
Robata-grilled lamb tenderloin (1 skewer), house tare sauce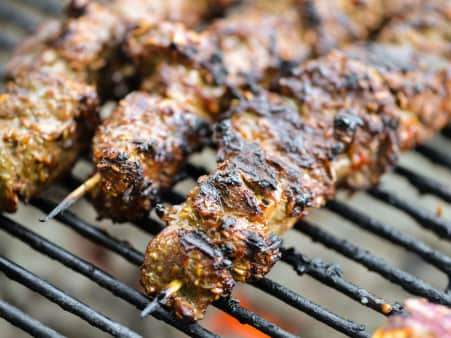 ROBATA YELLOWTAIL COLLAR
Robata-grilled hamachi (yellowtail) collar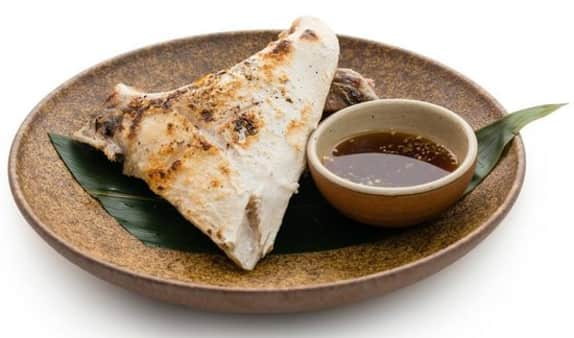 ROBATA TENDERLOIN
Robata-grilled beef tenderloin (1 skewer)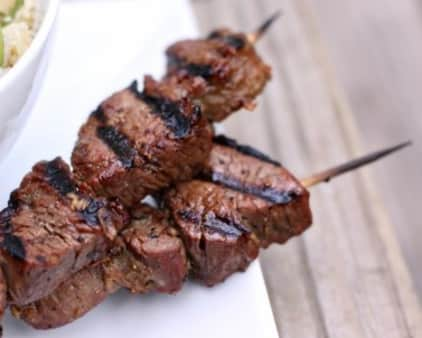 ROBATA SHORT RIB
Robata-grilled beef short rib (1 skewer), house tare sauce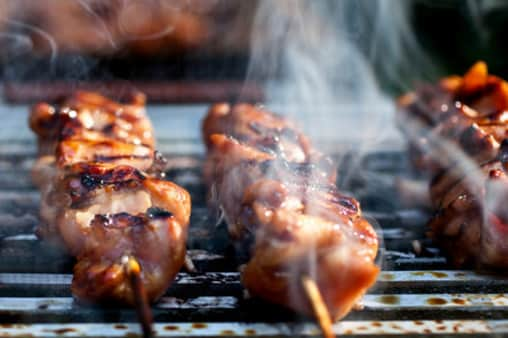 ROBATA BABY OCTOPUS
Robata-grilled baby octopus (1 skewer), house tare, sesame dressing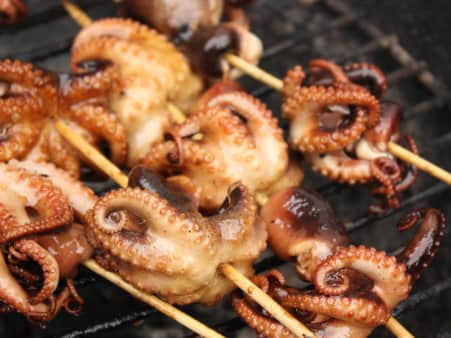 SUNSET ROLL
salmon, unagi eel, crab salad, avocado, tempura flakes, sweet soy, sesame seed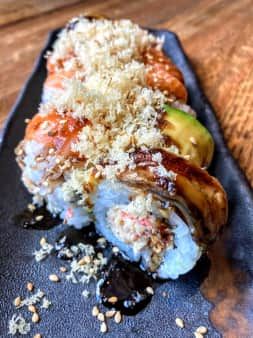 VEGAN ROLL
cucumber, avocado, spring mix, lettuce, edamame, house pickle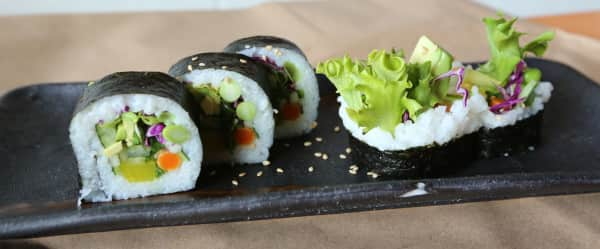 LET'S ROLL OUT
torched salmon belly, cucumber, avocado, spicy mayo, masago, eel sauce, sesame seed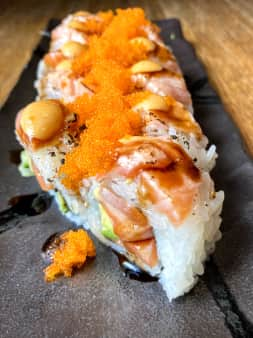 KAMIKAZE ROLL
yellowtail, spicy tuna, cucumber, sriracha, scallion, masago, sesame seed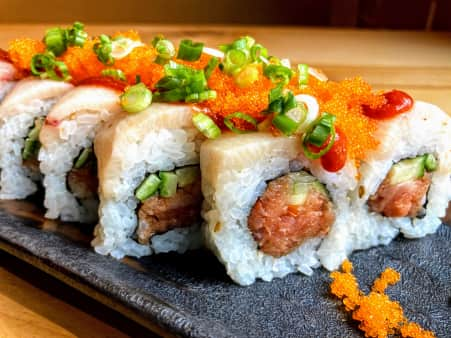 Cali Crab Roll
Torched california crab roll filled with shrimp tempura, avocado, crab salad, red tobiko, wasabi relish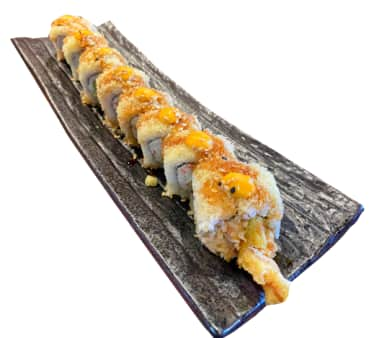 SPIDER ROLL
soft shell crab, cucumber, avocado, daikon, masago, unagi sauce, sweet chili, sesame seed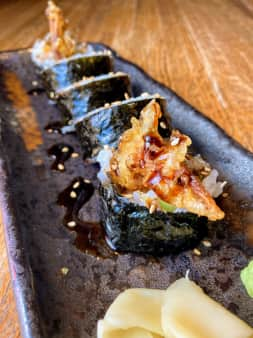 CRISPY SALMON SKIN ROLL
salmon skin, cucumber, pickled burdock root, yellow radish, poke sauce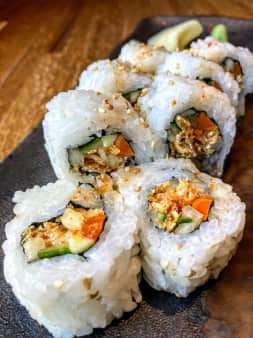 SHRIMP TEMPURA ROLL
shrimp tempura, cucumber, sushi rice, nori seaweed, sesame seed