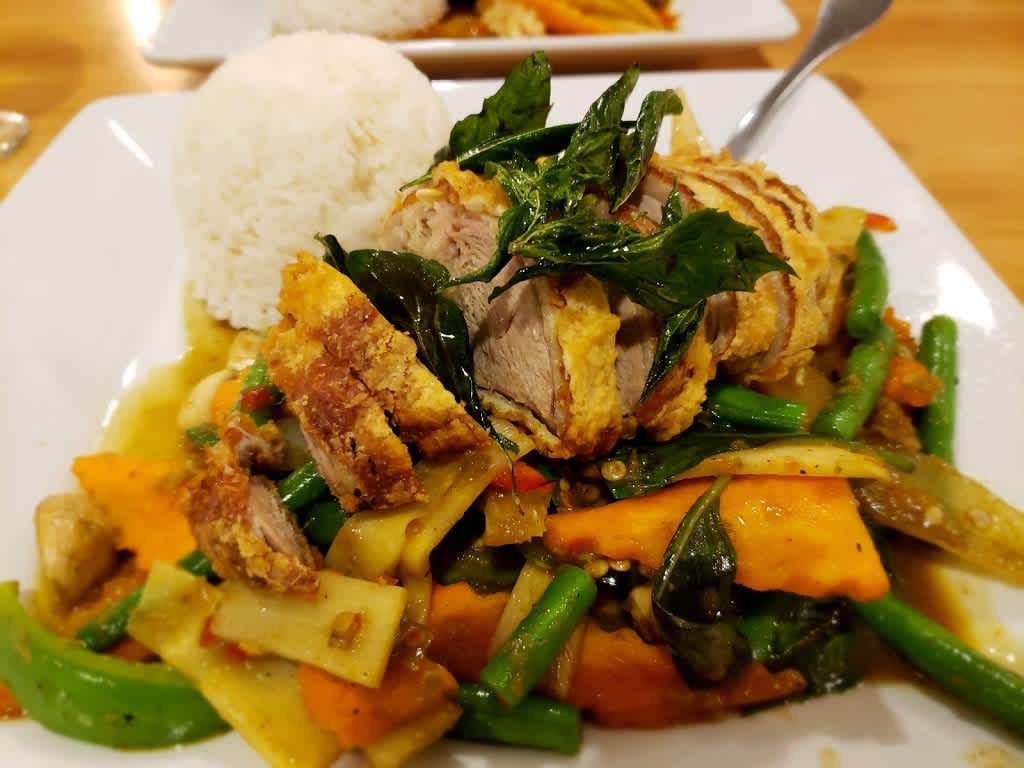 Belly Bomb
Flavorful marinated Pork Belly stir fried with vegetables in a light hot chilly and garlic sauce.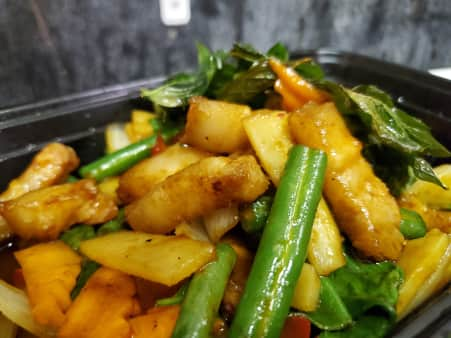 Tamarind Duck
Crispy Duck Breast topped over carrots, snow peas, broccoli, and asparagus. Served with sweet and tangy Tamarind sauce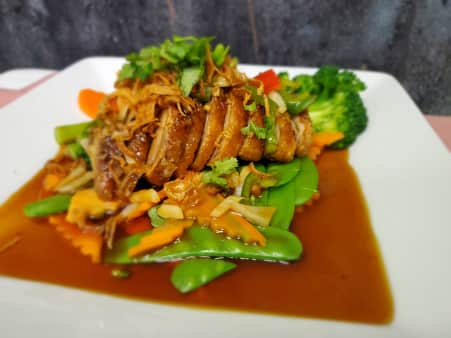 Karee Shrimp
A special dish featuring tender shrimp, fluffy scrambled eggs enveloped in a rich and flavorful curry sauce, and a medley of colorful bell peppers and onions . Served with a generous portion of steamed white rice to soak up all the delicious flavors.
Tropical Salmon
Crispy salmon cubes stir-fried in our homemade orange sauce with mangoes, red bell peppers, green bell peppers, and onions. Served with steamed carrots, broccoli, and asparagus and white rice.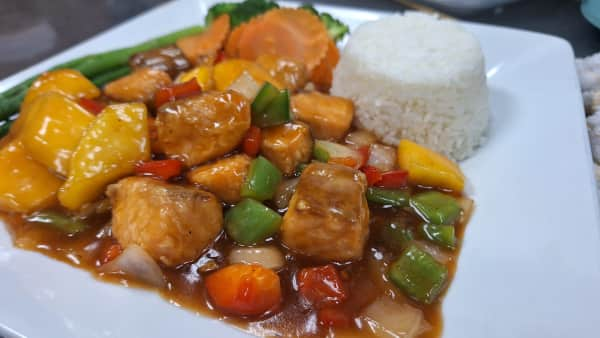 Kao Soi
Northern Thai style savory curry broth with stewed beef, served with steamed yellow noodles and topped with crispy fired noodles.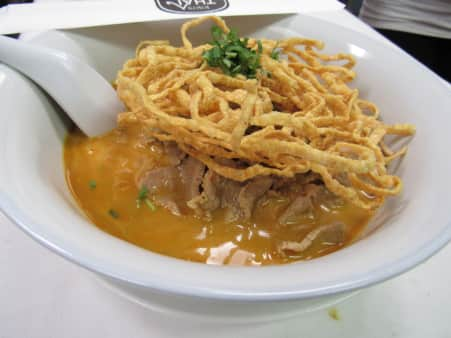 Chive Cake Dumplings
Crispy on the outside with a chewy flavorful inside, served with our Garlic-Soy dumpling sauce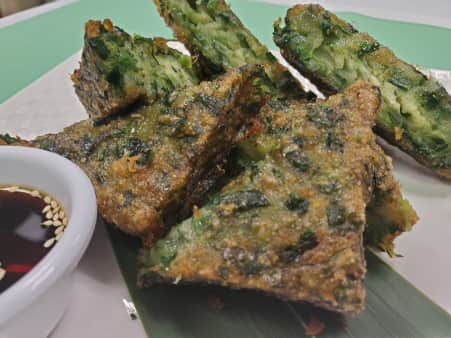 Thai Dumplings
Hand made, steamed, Thai-style dumplings filled with marinated pork and vegetables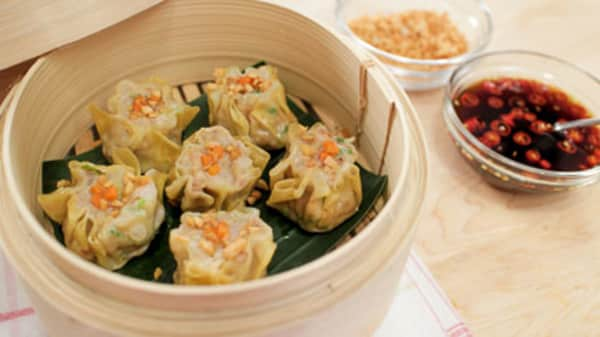 Rocket Shrimp
Jumbo shrimp marinated in garlic soy sauce wrapped in crispy wonton skin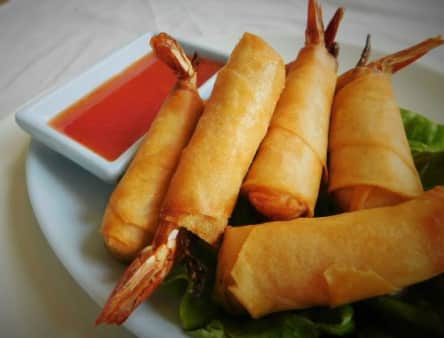 Curry Puffs
Crispy handmade pastries stuffed with curried chicken and potatoes. Vegetarian option available with potatoes, mushroom and onions.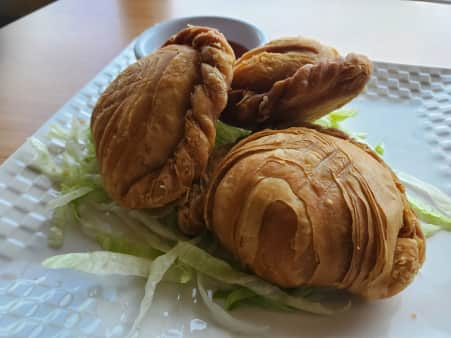 Crispy Pad Thai
Crispy egg noodles; egg, bean sprouts, peanuts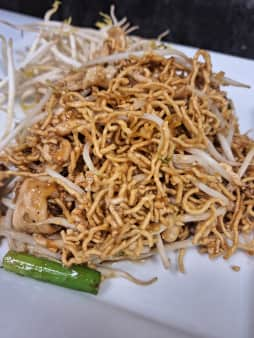 Chicken Satay
Skewers marinated with coconut and curry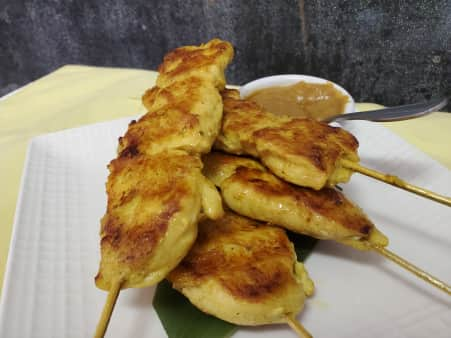 Crab Rangoon
Crab, cream cheese & carrots wrapped in crispy wonton skin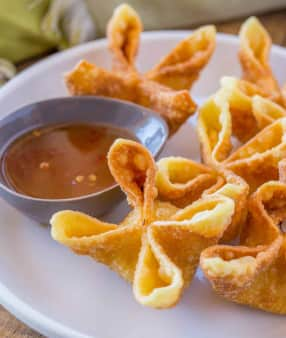 Edamame
Soybean pods steamed & lightly salted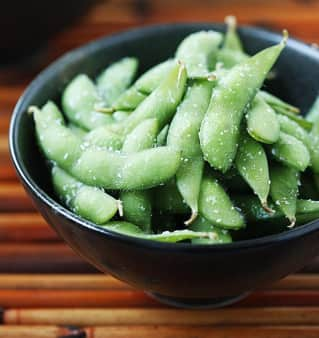 Fresh Rolls
Fresh lettuce, carrots & rice noodles wrapped in thin rice paper
Golden Tofu
Fresh Tofu fried to a crispy golden brown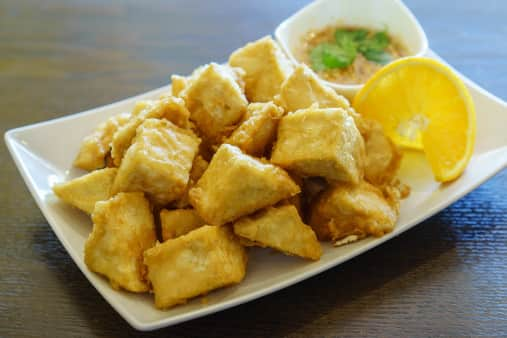 Gyoza
Marinated pork and vegetable dumpling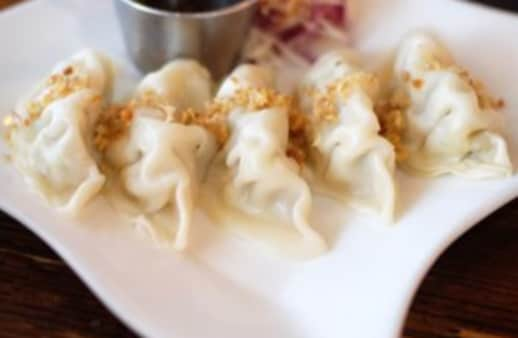 Scallion Pancake
Savory flat bread folded with oil and scallions. Crispy on the outside with a chewy consistency.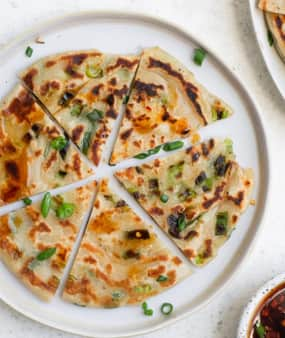 Thai Rolls
Crispy spring rolls filled with seasoned mixed vegetables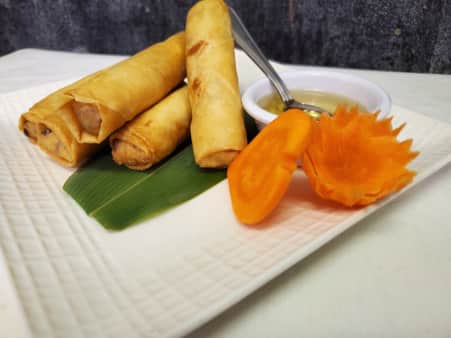 Thai Wings
Thai style marinated crispy wings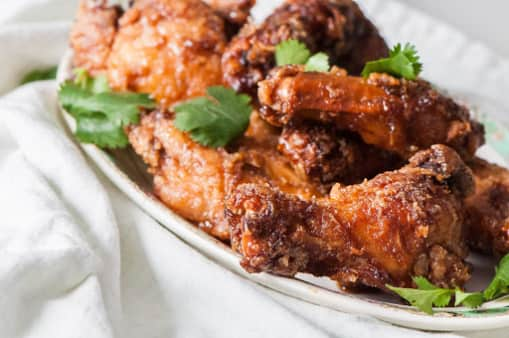 Vietnamese Rolls
Ground pork, onions, carrots and glass noodles wrapped in rice paper and fried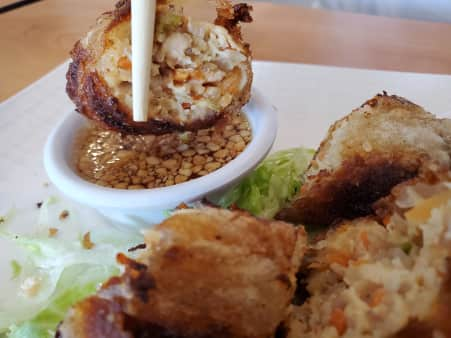 Wonton Soup
Clear broth with wontons & assorted vegetables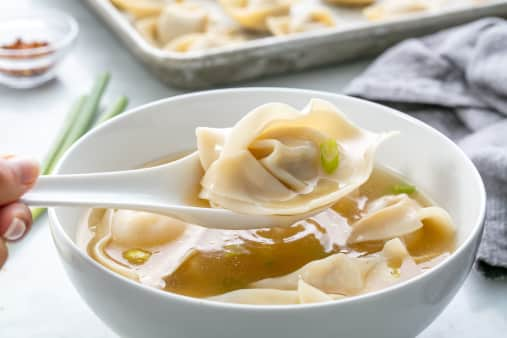 Tom Yum
Hot & sour broth; lemongrass, kaffir lime, galangal, chili paste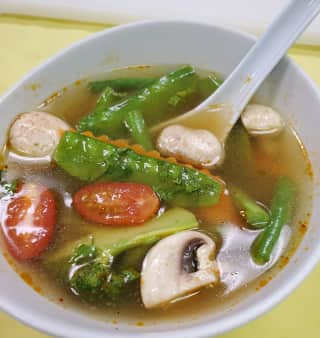 Tom Kha
Light creamy broth; coconut milk, lemongrass, kaffir lime, galangal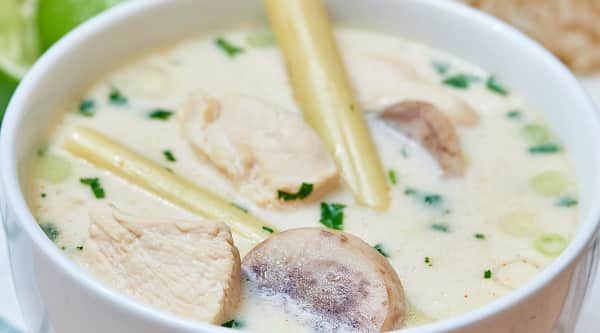 Veggie Soup
Clear broth; broccoli, carrots, baby corn, snow peas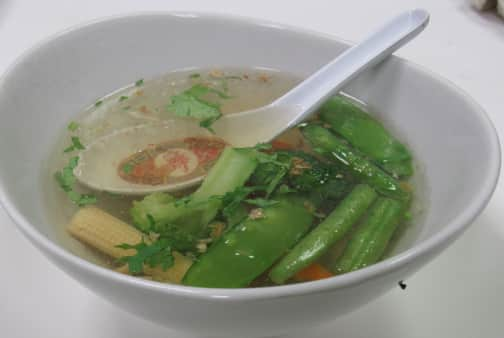 Noodle Soup
Broth & protein with steamed rice noodles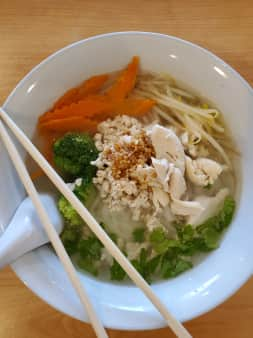 Tom Yum Noodle Soup
Chicken or Pork in hot & sour broth with steamed rice noodles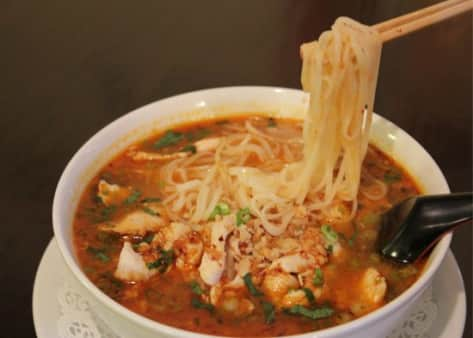 Laab
Minced chicken with onions. Tossed in spicy lime dressing & served on a bed of fresh lettuce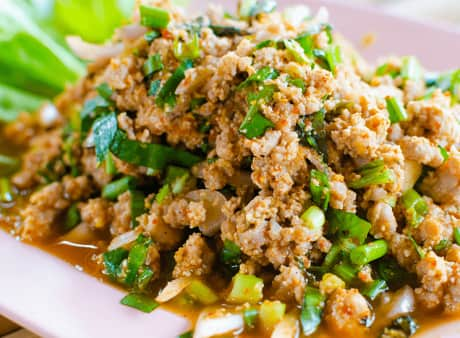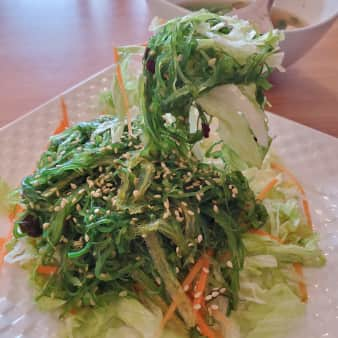 Yum
Marinated seafood or beef with onions. Tossed in spicy lime dressing & served on a bed of fresh lettuce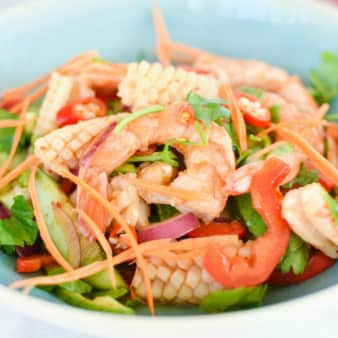 Chicken Satay Salad
Mixed greens, onions, carrots, cucumber, tomatoes with Chicken satay with peanut dressing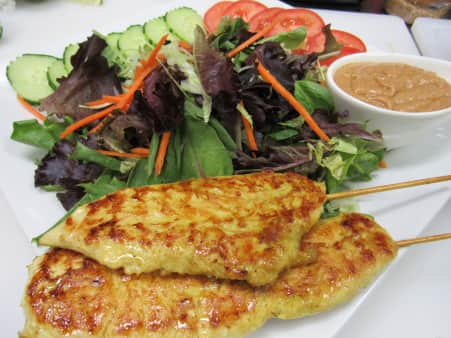 Basil Lomein
Egg noodles; spicy basil sauce, broccoli, carrots, onions, bell peppers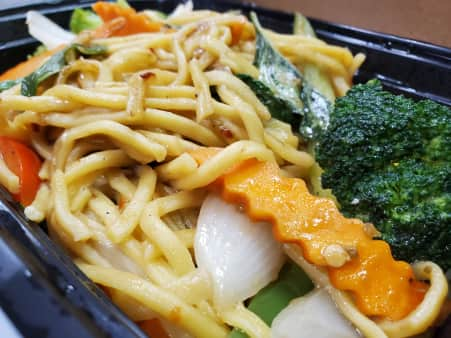 Drunken Noodle
Wide rice noodles; spicy basil sauce, egg, carrots, broccoli, onions, bell peppers
Lomein
Egg noodles; savory house sauce, broccoli, carrots, onions, snow peas, baby corn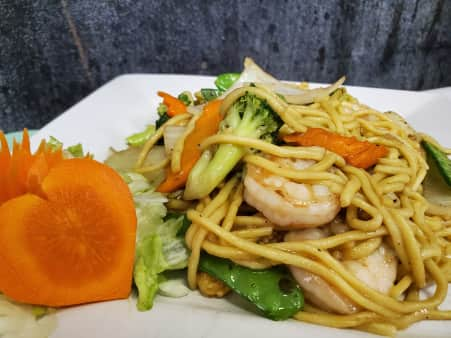 Pad Thai
Rice noodles; egg, bean sprouts, peanuts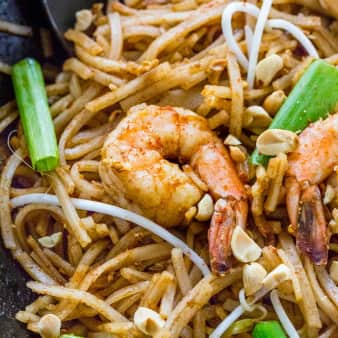 Rad Na
Wide rice noodles; Thai gravy; carrots, mushrooms, Chinese broccoli, snow peas, baby corn, broccoli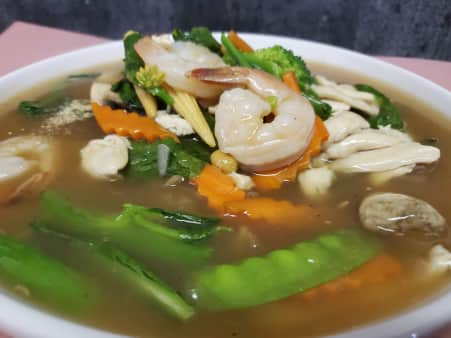 See Ew
Wide rice noodles; house sweet-soy sauce, egg, carrots, broccoli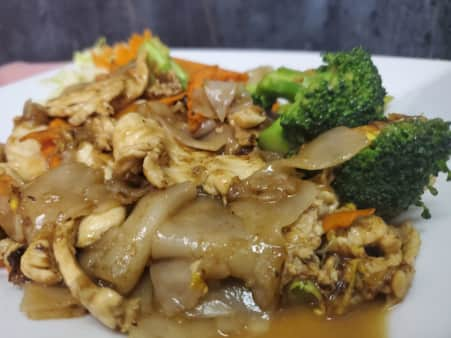 Woon Sen
Thin glass noodles; house sauce, carrots, broccoli, snow peas, onions, baby corn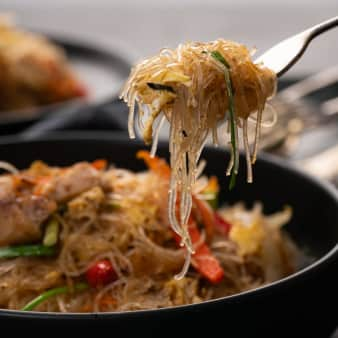 House Fried Rice
House sauce; egg, broccoli, carrots, onions, snow peas, baby corn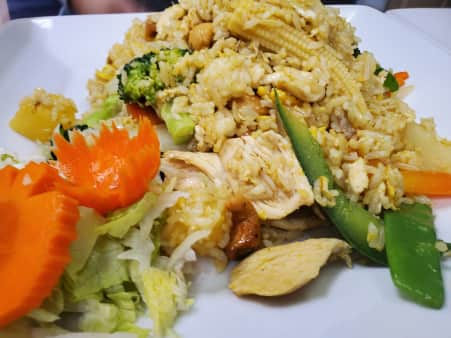 Mango Fried Rice
Egg, broccoli, carrots, onions, cashews, curry powder, mango, snow peas, baby corn, bell peppers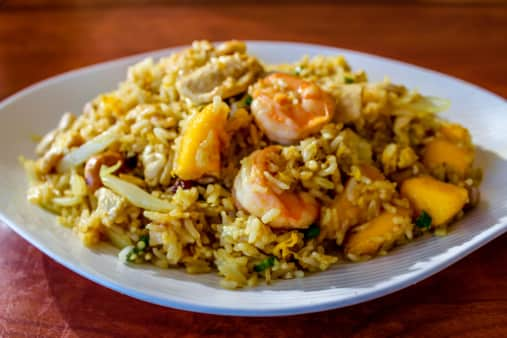 Pineapple Fried Rice
Egg, broccoli, carrots, onions, bashews, curry powder, pineapple, snow peas, baby corn, bell peppers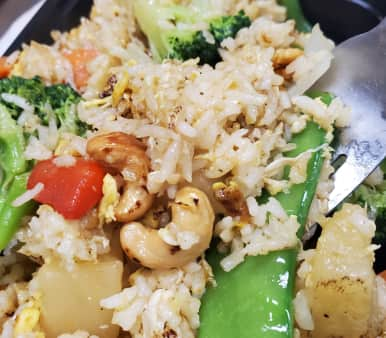 Spicy Fried Rice
Spicy basil sauce; egg, carrots, onions, bell peppers, basil, broccoli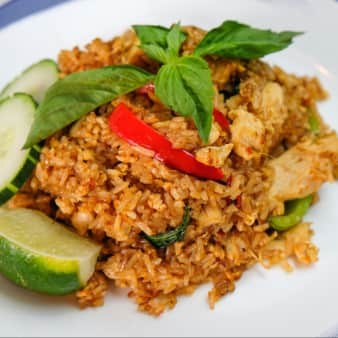 Green Curry
Flavored with fresh green chilies offering a sweeter tasting curry; bamboo shoots, string beans, bell peppers, zucchini, basil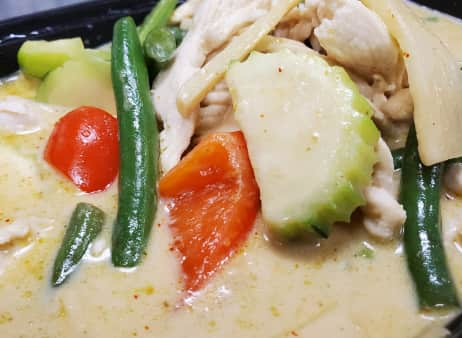 Mango Curry
Savory curry balanced with the sweetness of mangoes; potatoes, carrots, bell peppers, onions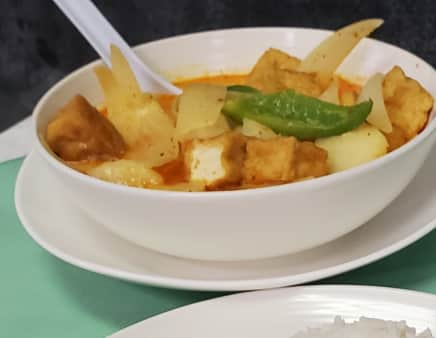 Massaman Curry
Rich, relatively mild curry flavored with dried spices and fresh herbs; potatoes, carrots, onions, topped with peanuts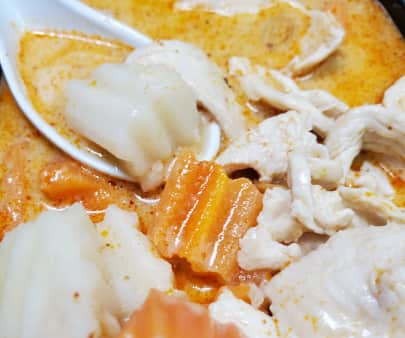 Panang Curry
Rich, nutty with a savory and sweet profile; bell peppers, baby corn, carrots, snow peas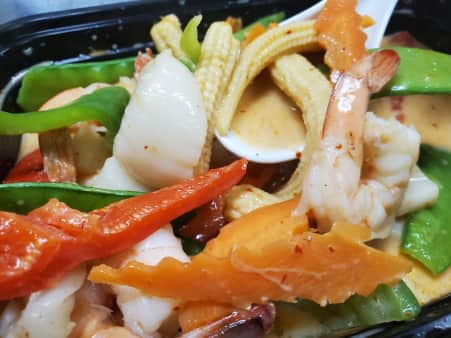 Red Curry
A strong spicy sweet curry, flavored with Red Spur chilies; bamboo shoots, string beans, bell peppers, carrots, basil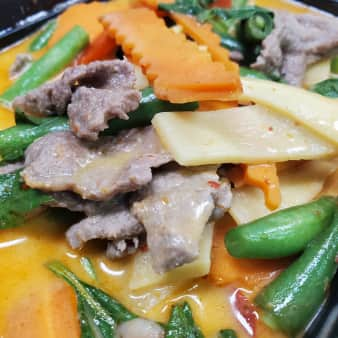 Yellow Curry
Relatively mild curry with blends of dried Thai spices and fresh herbs; potatoes, carrots, bell peppers, onions, pineapple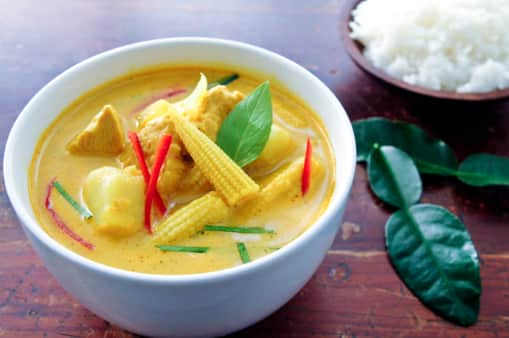 Basil
Thai spicy basil sauce; onions, carrots, bell peppers, mushrooms, basil, bamboo, string beans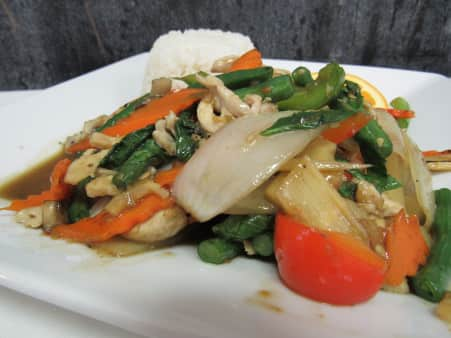 Broccoli
Savory house sauce; carrots, mushrooms, baby corn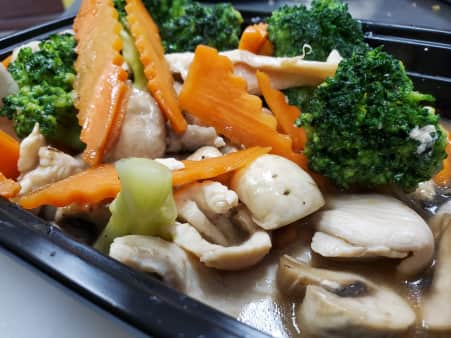 Cashew Nut
Sweet chili sauce; onions, bell peppers, mushrooms, carrots, cashews, pineapple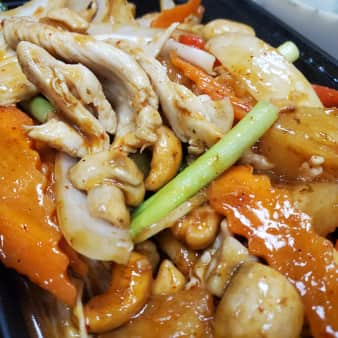 Garlic
Garlic sauce; carrots, snow peas, mushrooms, baby corn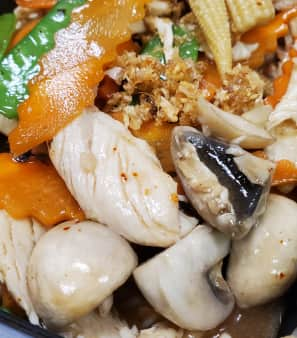 Ginger
Ginger house sauce; onions, bell peppers, carrots, mushrooms, asparagus, topped with fresh sweet ginger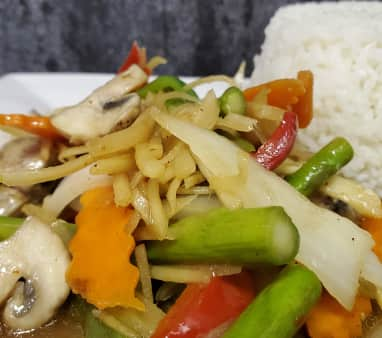 Lemon Grass
House lemon grass sauce; onions, bell peppers, carrots, chopped fresh lemongrass, mushrooms, apsparagus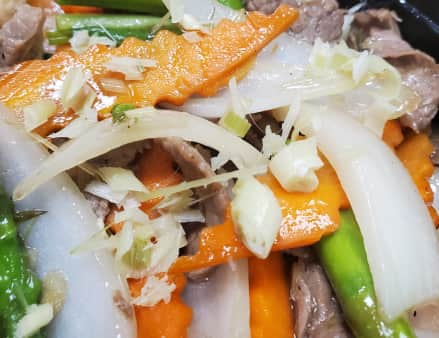 Prik Khing
Traditional spicy and sweet chili sauce; string beans, carrots, bell peppers, onions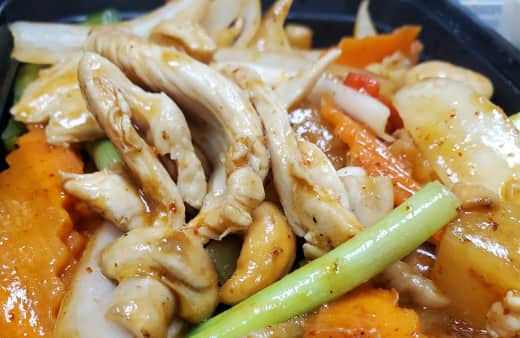 Sweet & Sour
Sweet & sour sauce; onions, carrots, bell peppers, snow peas, pineapple, tomatoes, cucumber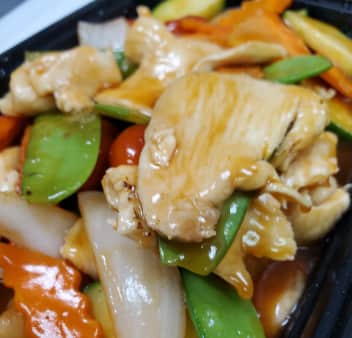 Chicken Orange
Orange sauce; crunchy chicken with onions, carrots, broccoli, bell peppers, baby corn topped with sesame seeds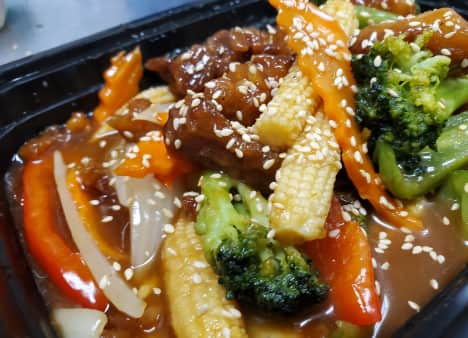 Fancy Pineapple
House sauce infused with sweet pineapples; chicken, shrimp, onions, mushrooms, bell peppers, carrots, baby corn, cashews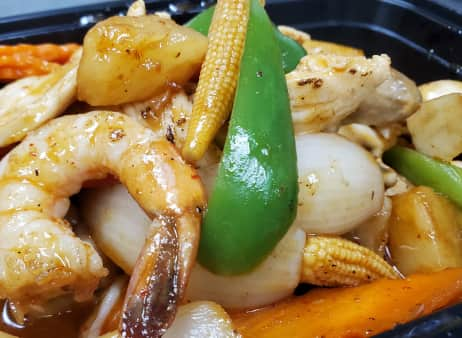 Krapow Kai Kaidow
Ground chicken, onions, string beans, bell peppers in Krapow basil sauce topped with Thai-style fried egg
Ocean Pad Ped
Thai sweet and spicy chili sauce; shrimp, scallops, calamari, baby corn, broccoli, carrots, mushrooms, cashews, onions, bell peppers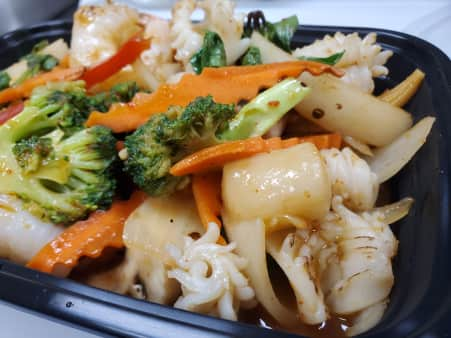 Sesame Chicken
Sesame sauce; crunchy chicken with onions, carrots, broccoli, bell peppers, snow peas topped with sesame seeds
Ten Kings Party
House sauce; chicken and shrimp with carrots, cashews, mushrooms, pineapple, baby corn, snow peas, tomatoes, zucchini, asparagus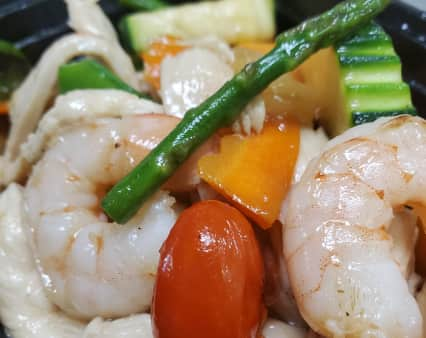 Teriyaki Chicken
Teriyaki sauce; chicken tender slices with onions, carrots, broccoli, bell peppers, topped with sesame seeds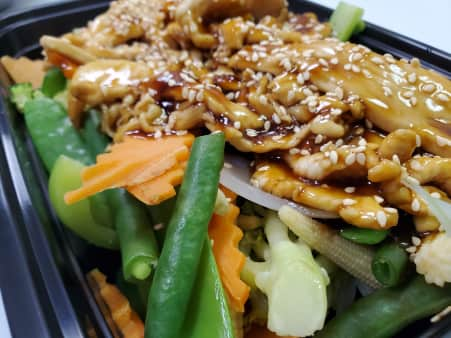 Spicy Fish
Light crispy Tilapia fillets in Ginger-chili sauce with onions, bell peppers, carrots and string beans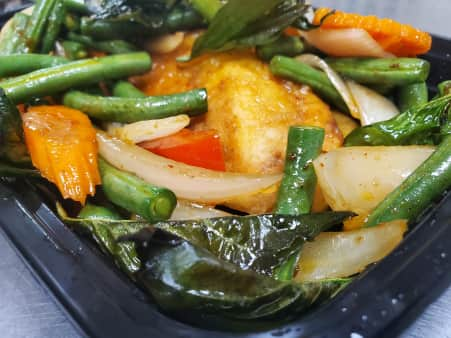 Peanut Curry
Creamy peanut dressing over steamed assorted vegetables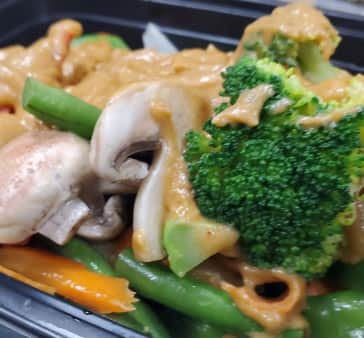 Rainbow Basil
Spicy Basil Sauce; assorted vegetables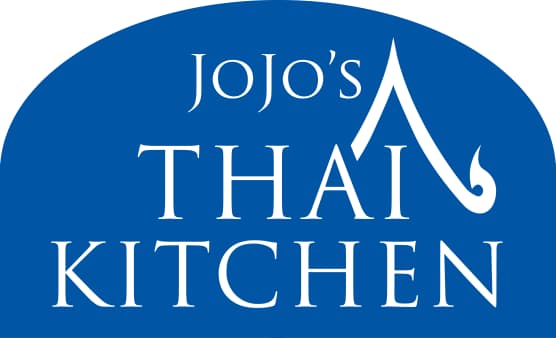 Rainbow Ginger
Garlic ginger sauce; assorted vegetables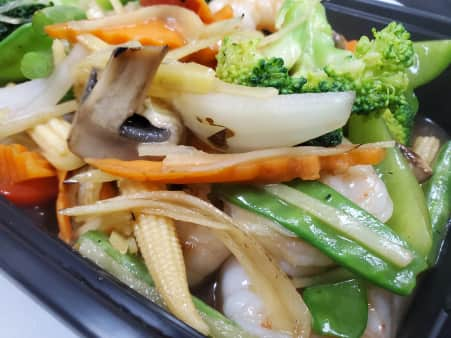 Tofu Delight
House sauce stir-fry assorted vegetables and tofu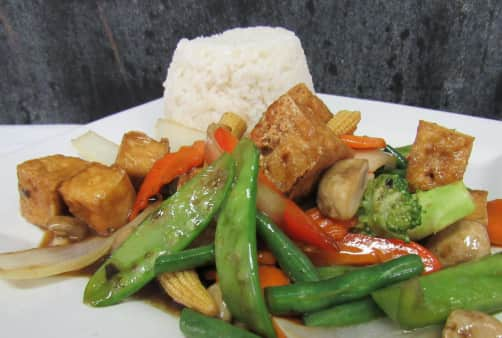 Tofu Noodle
Creamy peanut dressing served over steamed noodles and assorted vegetables