Arancini -
4 pieces of crispy tomato basil risotto stuffed with cheese, served with lemon basil aioli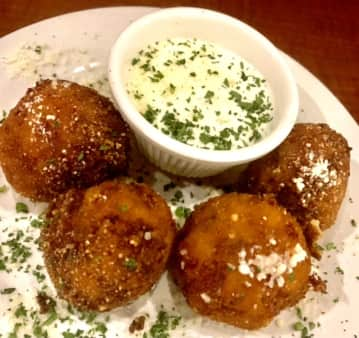 Toasted Cheese Garlic Bread
Our Locally Baked Bread with Garlic Butter and Mozzarella, Marinara for Dipping
Crispy Eggplant Parmesan
San Marzano Tomato Sauce , Mozzarella and Parmesan
Meatball Appetizer
Two Homemade Meatballs baked with San Marzano Tomato Sauce and Mozzarella Cheese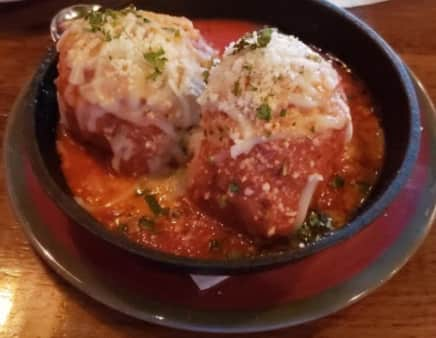 Roasted Cauliflower & Asparagus App
Roasted Cauliflower and Asparagus- With grated parmesan, EVOO, lemon, b lack pepper and balsamic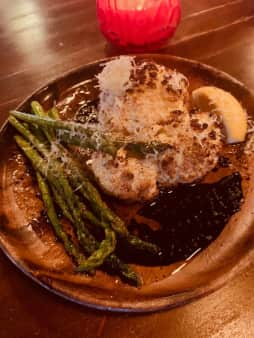 Homemade Toasted Ravioli
Meat filled served with sauce and parm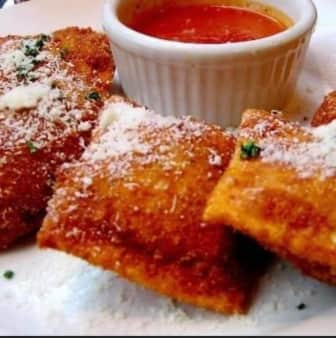 Salad Special
field greens, pears, walnuts, gorgonzola, white balsamic
Mahi Mahi
mahi mahi grilled served with parmesan risotto, sauteed green beans and romesco sauce
Pasta Special
Homemade Bucatini with Sauted Shrimp, Clams, Arugula in a Garlic Butter Sauce
Family Meal Deal
1 Large Insalata Mista, 1 (6) Piece Toasted Ravioli, 1 Pasta Bolognese and a 1 Topping Pizza
Pizza Special
Pizza Rustica- Italian Fennel Sausage, Roasted Potatoes, Red Onion, Roasted Sweet Peppers, House Red Sauce, Fontina and Mozzarella
Small Caesar Salad
Crispy romaine, homemade dressing croutons, parmesan
Large Caesar Salad
Crispy romaine, homemade dressing croutons, parmesan
Chopped Wedge Salad
Grilled Chicken, Hard Boiled Eggs, Avocado, Pancetta, Gorgonzola, Tomato, Creamy Gorgonzola Vinaigrette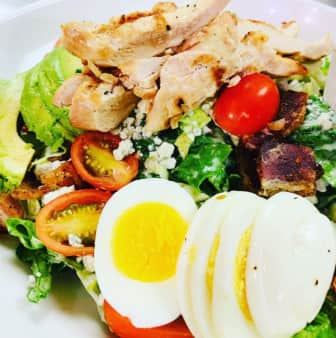 Small Marcella's Salad
Greens, Gorgonzola, Mozzarella, Marinated Tomatoes, Garbanzo Beans, Prosciutto Crudo, White Balsamic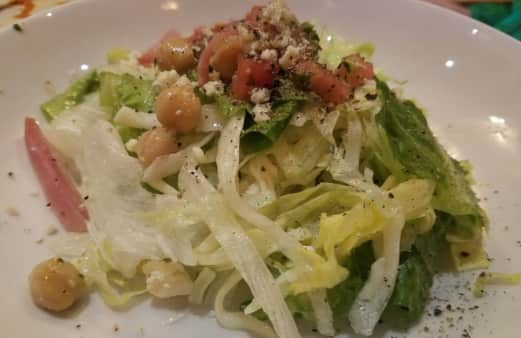 Large Marcella's Salad
Greens, Gorgonzola, Mozzarella, Marinated Tomatoes, Garbanzo Beans, Prosciutto Crudo, White Balsamic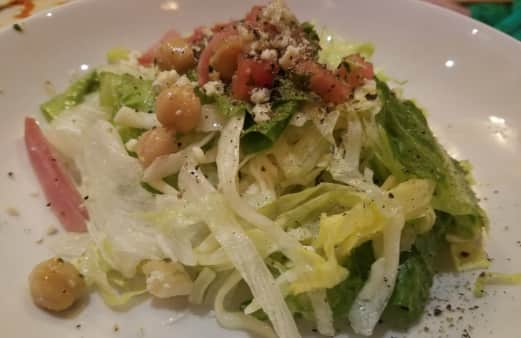 Meatballs & Mista Salad
Mista Salad and Two Meatballs Sauce and Cheese with Garlic Cheese Bread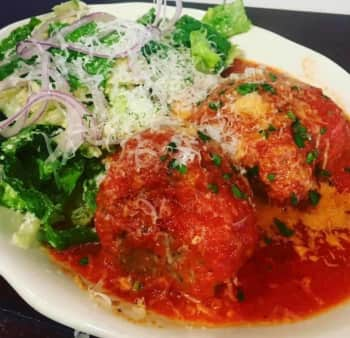 Mediterranean Salad
Grilled Chicken, Chopped Romaine, Iceberg, Black Olives, Red Onion, Cucumber, Cherry Tomatoes, Crumbled Goat Cheese and House Vinaigrette
Small Mista Salad
Lettuce, artichoke hearts, red onion, parmesan, red wine mustard vinaigrette
Large Mista Salad
Lettuce, artichoke hearts, red onion, parmesan, red wine mustard vinaigrette
Shaved Brussels
Peppered bacon, Toasted Almonds, Gorgonzola, Green Goddess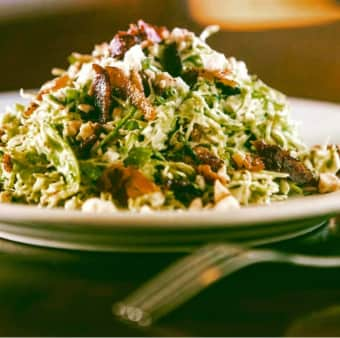 Salad Special
field greens, pears, walnuts, gorgonzola, white balsamic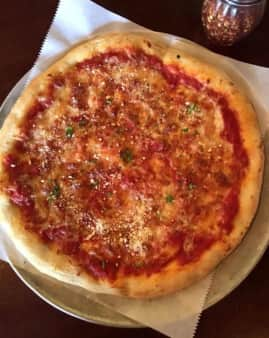 Covered In Pepperoni
Pepperoni Edge to Edge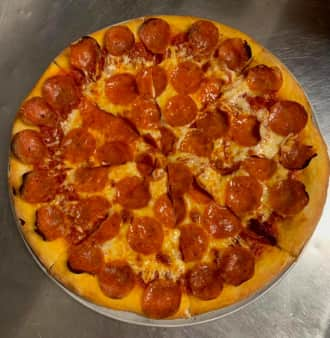 Garden and Goat
Roasted Veggies, Sun-Dried Tomatoes, Mozzarella, Goat's Cheese
Margherita
San Marzano tomato, basil, fresh mozzarella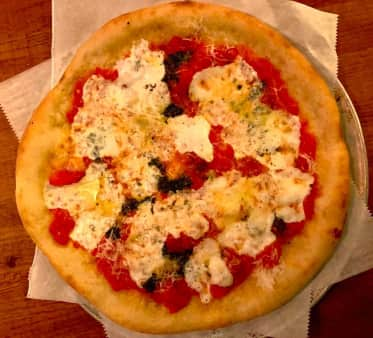 Paulie D's Lux
Pepperoni, Sausage, Bacon, Onion, Mushrooms, Green Peppers, Black Olive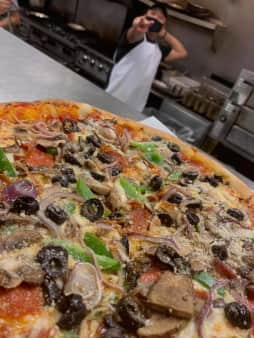 That'sa Meata'ball
Homemade meatballs, caramelized onions, slow cooked meat sauce, mozzarella, ricotta and parmesan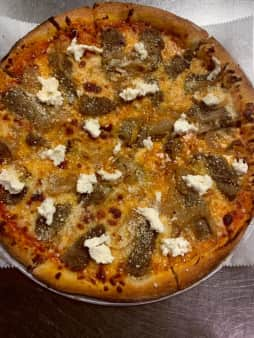 The Don
Sausage, bacon, pepperoni, capicola, peppadew peppers, mozzarella, parmesan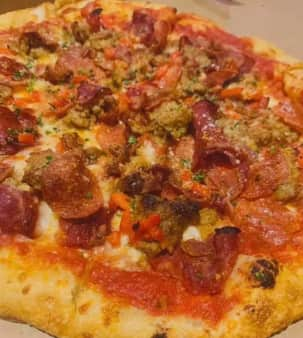 Top Three
Top Three, Pepperoni, Sausage, Mushroom
Spinach & Artichoke
Spinach, Artichoke, Garlic, EVOO, Mozzarella, Black Pepper, Goat Cheese, Cherry Tomato, Lemon.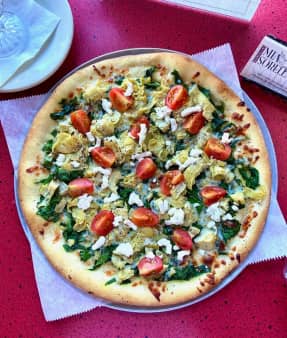 The Goodfellas
Pepperoni, Sausage, Bacon, Onion, Mushrooms, Green Peppers, Black Olives
Braised Beef Tortellini
Prosciutto, peas, mushrooms, parmesan cream sauce
Cannelloni al Forno
Meat filled pasta tubes, tomato cream sauce
Chicken Risotto
Chicken Risotto with Asparagus, Sundried Tomato, Mushrooms, Parmesan and Lemon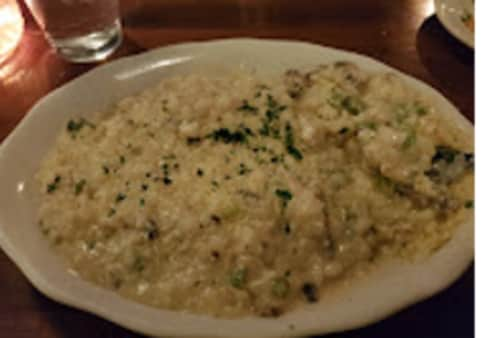 Fusilli
Cork Screw shaped Pasta with Roasted Chicken, Prosciutto and Spinach in a Smoked Mozzarella Demi Cream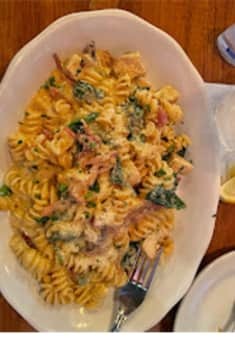 Lasagna al Forno
Fine layers of Pasta, Cheese and Sausage Ragu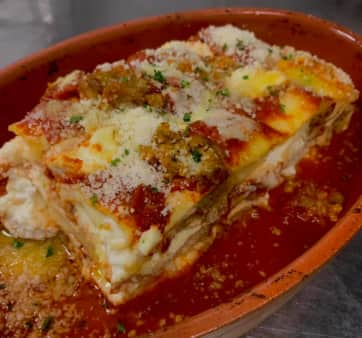 Pantacce Toascane
Little Magic Carpet Shaped Pasta, Roasted Salmon Zucchini, Mushrooms, Tomato, White Wine Lemon Sauce
Papperdelle
Wide Ribbon Noodle with Fennel Sausage, Mushrooms, Spinach, Caramelized Onions, Marsala Cream
Rigatoni al Amatriciana
Thick cut Bacon, Caramelized Onions, Red Chilies, San Marzano Tomato Sauce and Grated Parmesan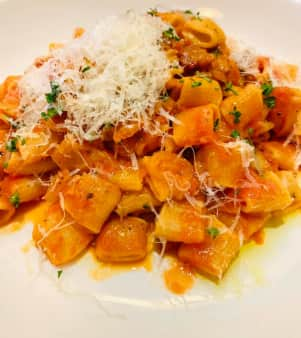 Spaghetti & Meatballs
Homemade meatballs, sauce, parmesan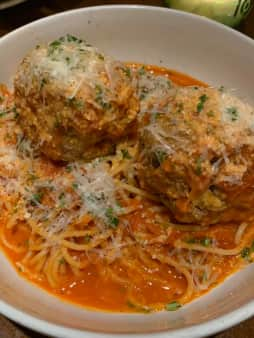 Spaghetti & Veggies -
Roasted Vegetables, San Marzano Tomato Sauce and Crumbled Goat's Cheese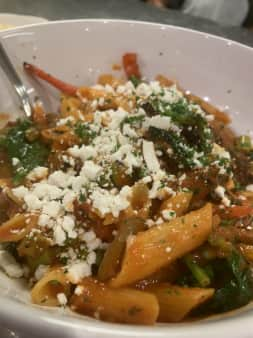 Spaghetti Pomodoro
Homemade Sauce and Parmigiano Cheese
Spaghetti Di Mare
Shrimp , Clams, Mussels and Calamari , EVOO, Tomato, Garlic, Basil and Red Chili
Fettucine Alfredo
Homemade Sauce and Parmigiano Cheese
Beef Modega
Char- Broiled with Ciabatta Bread Crumbs, Prosciutto, Fresh Mozzarella, Mushrooms, Roasted Garlic Lemon Sauce, Your choice of Tomato Sauce or Cream Sauce pasta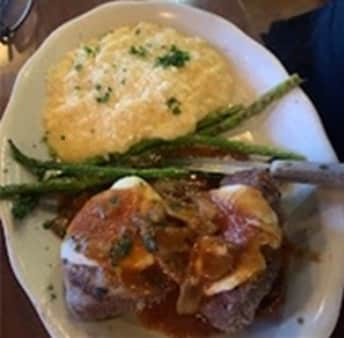 Chicken Caprino
Charbroiled with Lemon Sauce, Olive Oil, Tomatoes, Basil and Goat Cheese, served with Sautéed Spinach
Chicken Parm Entrée
Sam Marzano Tomato Sauce, Mozzarella, Parmigiano and Choice Red or White Pasta
Chicken Soto
Charbroiled, mushrooms, roasted garlic lemon sauce with your choice of San Marzano Tomato Basil Pasta or Pasta with Cream Sauce
Scampi
San Marzano Tomato, Basil and Lemon, served with a Roasted Cauliflower Cake and Sautéed Spinach
Beef Tenderloin
Grilled Beef Tenderloin in a Barolo Red Wine Sauce, served with Grilled Asparagus and Parmigiano Risotto
Veal Picatta
Roasted Garlic Lemon Sauce, Capers and Mushrooms served with a Crispy Parmesan Risotto Cake and Sautéed Spinach
Bar Burger
8 oz. Freshly Ground Beef , American Cheese, Semolina Bun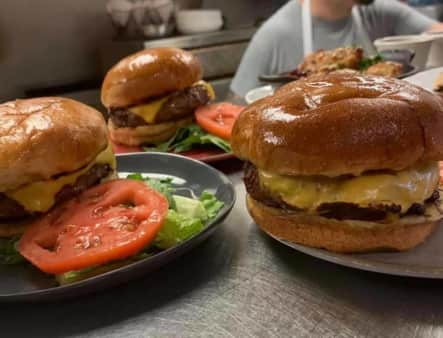 Chicken Parmigiano Sandwich
Chicken Parmigiano on Toasted Cheese Garlic Bread
Eggplant Parmigiano Sandwich
Eggplant Parmigiano on Toasted Cheese Garlic Bread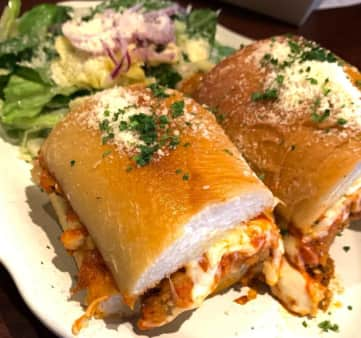 Grilled Chicken Breast Sandwich
Toasted Ciabatta, Chicken, Prosciutto Cotto, Gruyere Cheese, Avocado, Lettuce, Tomato and Aioli
Meatball Parmigiano
Meatball Parmigiano on Toasted Cheese Garlic Bread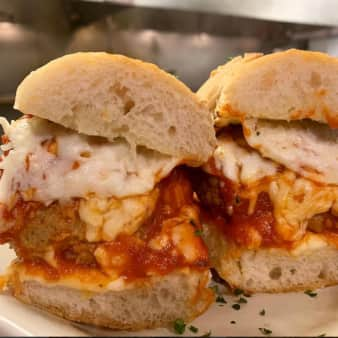 Peppercorn Burger
Half pound Fresh Ground Beef, Fontina Cheese, Applewood Smoked Bacon, Crispy Fried Onions, Aiolli, Brioche Bun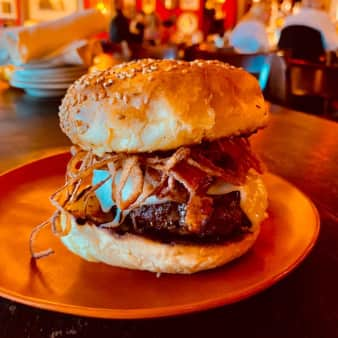 Roast Beef Sandwich
Slow cooked Roast beef sandwich on toasted garlic cheese bread with Sherry Au Jus served with a side of parmesan fries
Steve K's Favorite
Tenderloin on toasted cheese garlic bread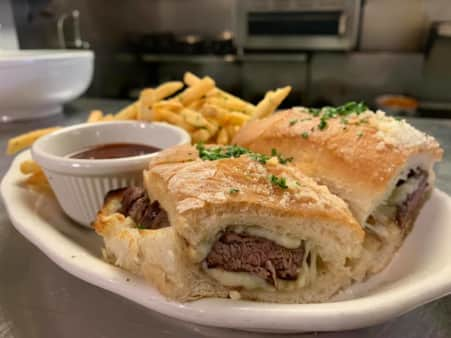 Budino di Chocolato
House Made Italian Chocolate Pudding, Biscotti Cookie Crust, Caramel and Whipped Cream
Cannoli
Tube Shaped Sicilian Pastry Shell filled with Sweetened Ricotta Cheese and Chocolate Chips, Finished on one end with Chopped Nuts and the other a Maraschino Cherry.
Tiramisu
Tiramisu "Pick Me Up" Coffee soaked Lady Fingers layered with sweetened Mascarpone Cheese and Cocoa. The Best a Must Try
Coconut Chiffon Cake by Sugaree Baking Co.
Light as a feather sheets of creamy chiffon cake sandwiched between whipped cream frosting that is rich and airy. A generous coating of sweet, shredded coconut adds texture.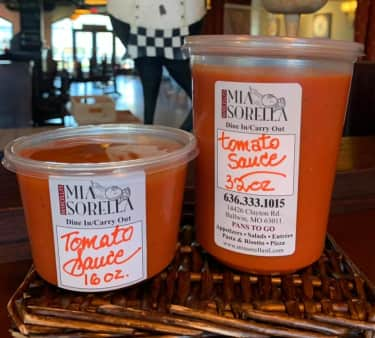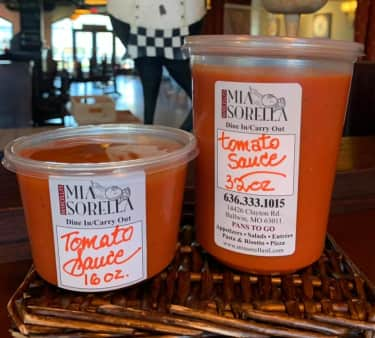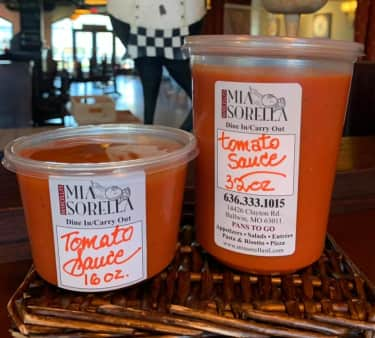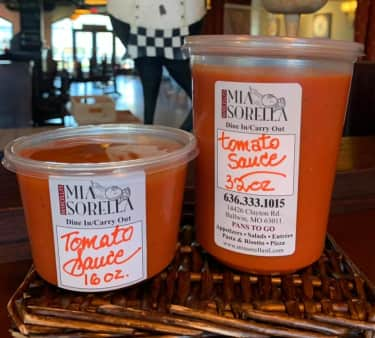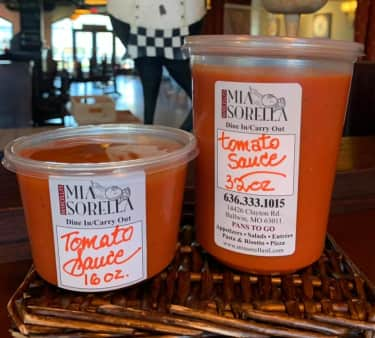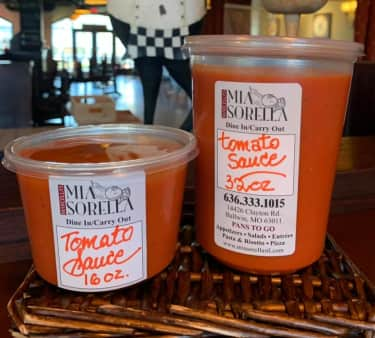 Pinot Blanco Terlan Volberg Riserva