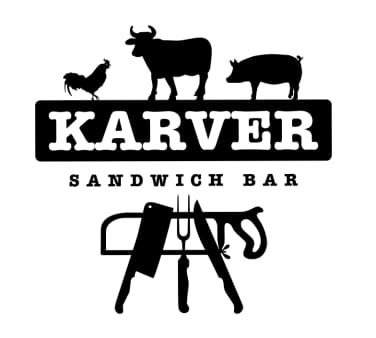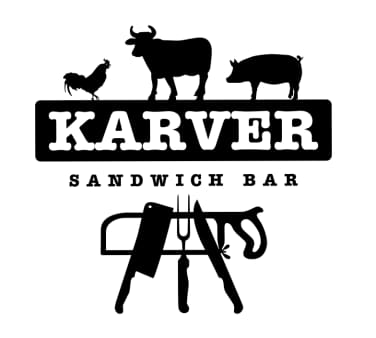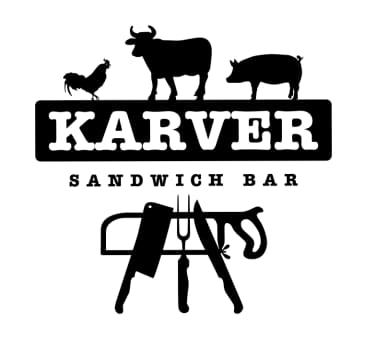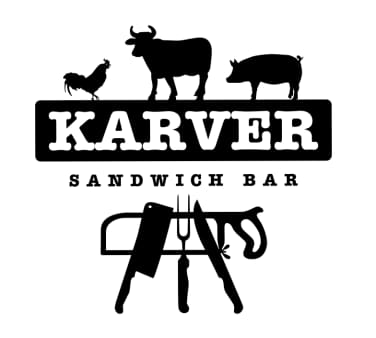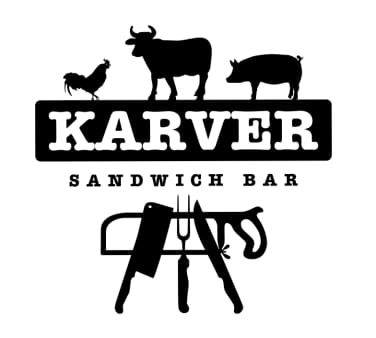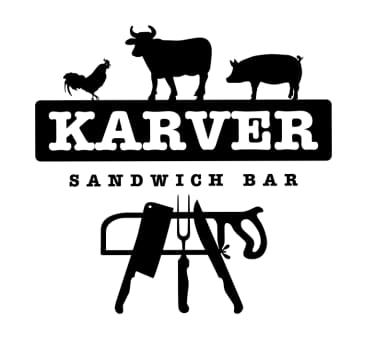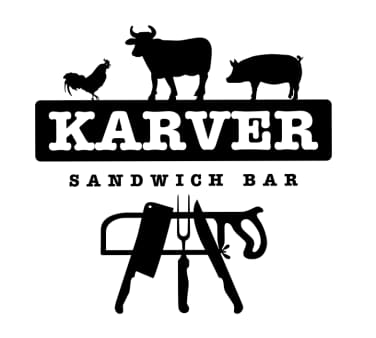 BLT
Butcher cut smoked bacon, romaine and tomatoes with truffle aioli on toasted sourdough.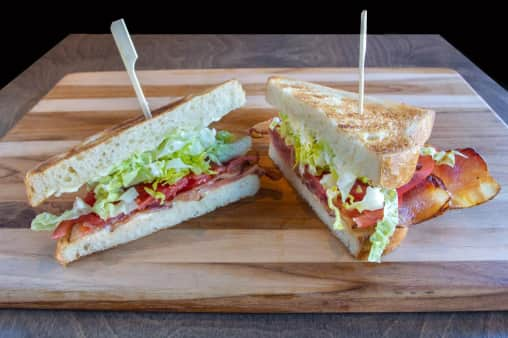 Caprese
Thick cut vine ripened tomatoes, fresh mozzarella and basil with balsamic & roasted garlic aioli on a toasted ciabatta
Godfather
Capicola, mortadella, salami and provolone with artichoke relish, romaine and parmesan aioli on a toasted baguette.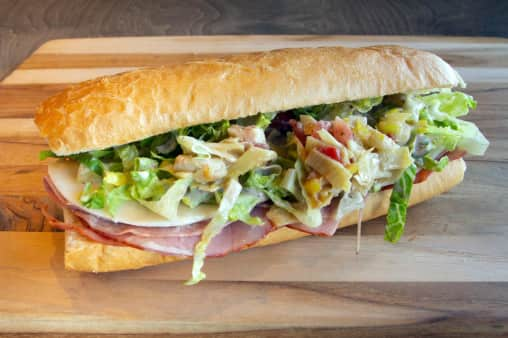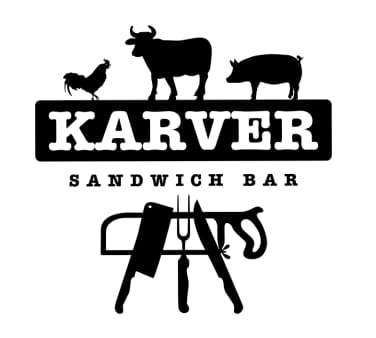 Smoked Turkey & Apple
Shaved hickory smoked turkey, white cheddar, granny smith apple, red onion, romaine S&P aioli honey mustard on toasted multi grain.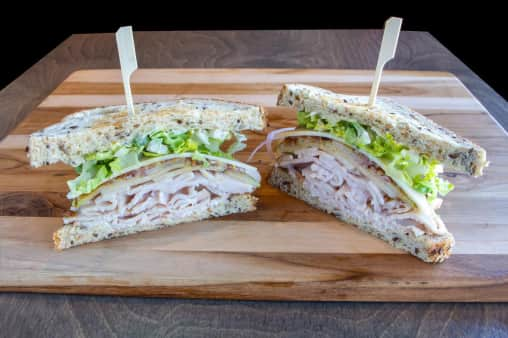 The Royale
Shaved house made roast beef with red onions, roasted tomato aioli and horseradish-goat cheese fondue on a toasted rustic roll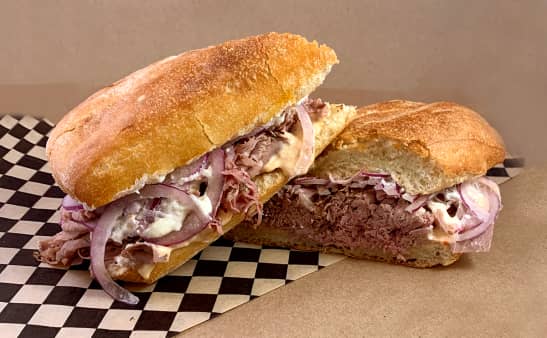 Tuna Nicose
Albacore tuna, tomatoes, hard boiled egg, olives, pickled onions, cucumber with Dijon vinaigrette on a toasted sourdough roll.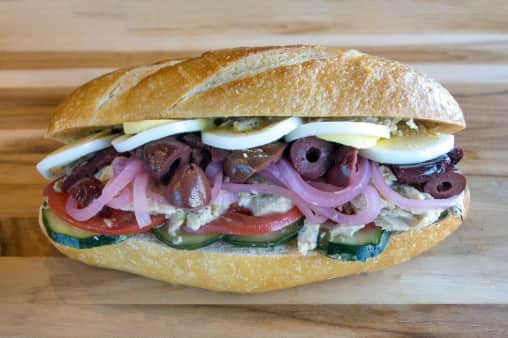 3X Grilled Cheese
Blended white cheddar, Swiss and goat cheeses pressed on thick cut sourdough.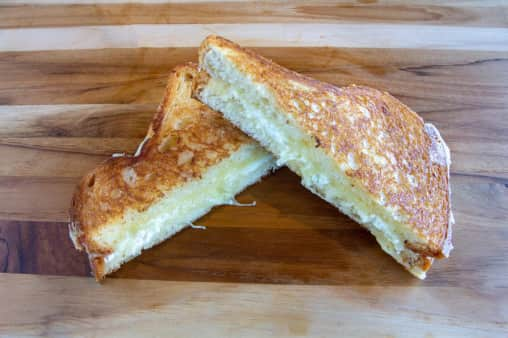 Cuban
Roasted pork shoulder, shaved smoked ham, swiss cheese, grain mustard and house made pickles on a pressed rustic roll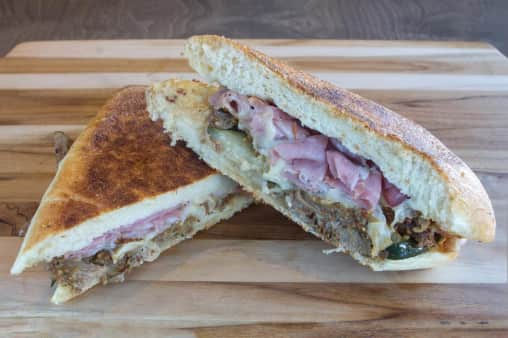 THE RACHEL
Turkey pastrami with Swiss spicy cabbage slaw & mustard aioli pressed on thick cut sourdough.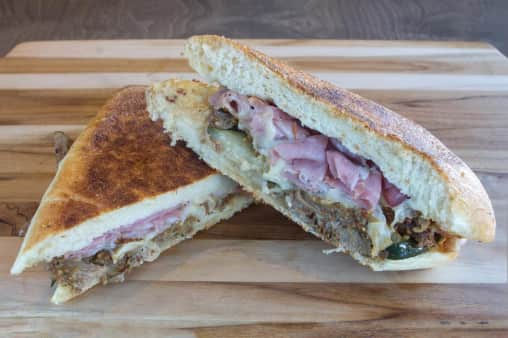 Fried Bologna
Pan fried mortadella piled high with caramelized onions, white cheddar and American cheese with mayo mustard on a brioche bun.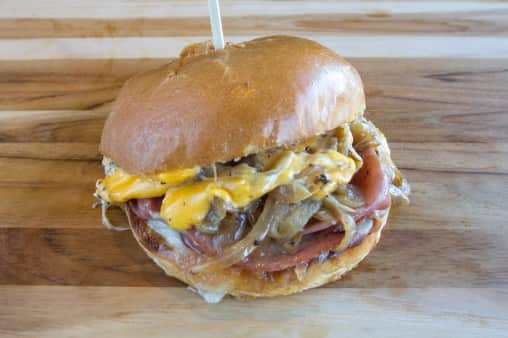 Jerk Chicken
pulled jerk roasted chicken breast, pepper Jack cheese, green apple slaw and garlic aioli on a pressed ciabatta.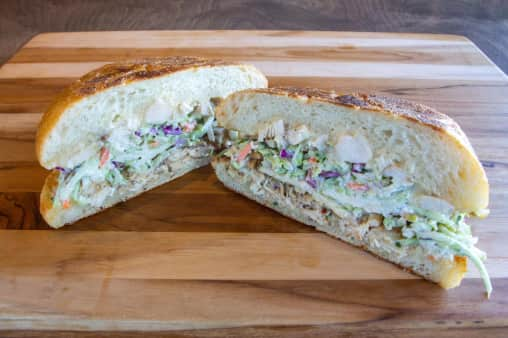 Kickin Chicken
Hot BBQ pulled chicken with pimiento cheese and Carolina slaw on a toasted brioche bun.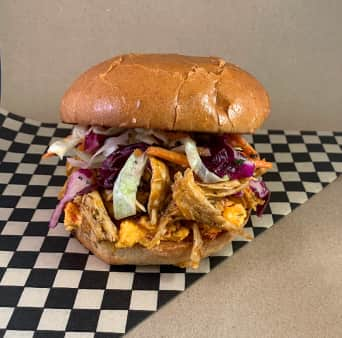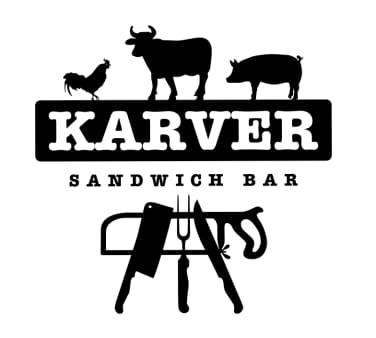 Melter Skelter
Roasted chicken, bacon, ranch, tomato and white cheddar pressed on a thick cut sourdough bread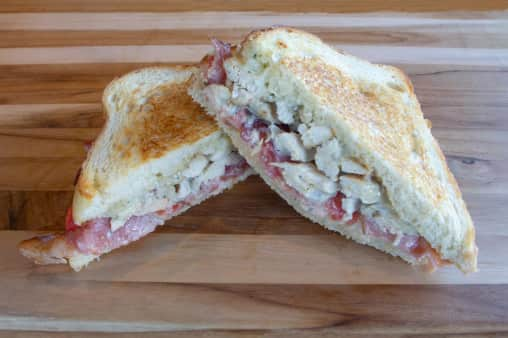 Pastrami Rueben
Shaved pastrami, swiss cheese, pickled cabbage kraut with 1000 island dressing pressed on a dark sourdough rye.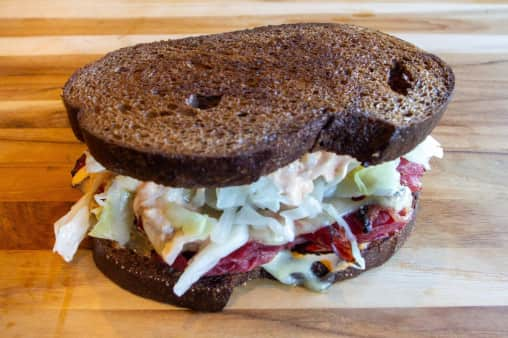 Pork Belly Banh Mi
Roasted pork belly, pickled veggies, diced cucumbers, cilantro, jalapeno, sriracha mayo and soy glaze on a toasted baguette.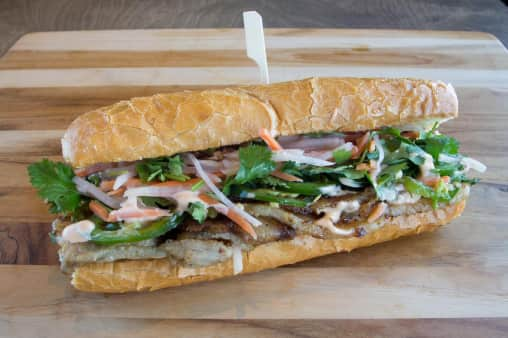 Tri Tip French Dip
Shaved roasted tri tip with grilled onions, peppers, melted provolone and S & P aioli on a crusty baguette. Served with black pepper Aus Jus.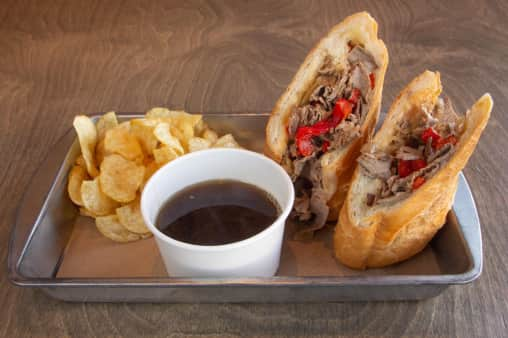 Greek Salad
Romaine, tomato, cucumber, red pepper, kalamata olives, red onion and feta with lemon vinaigrette.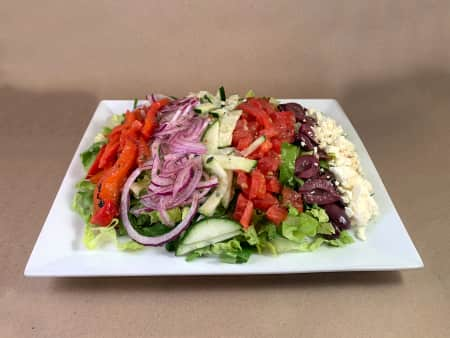 Turkey Cobb Salad
Shaved smoked turkey, tomatoes, hard boiled egg, blue cheese and cied bacon on bed of romaine with dijon vinaigrette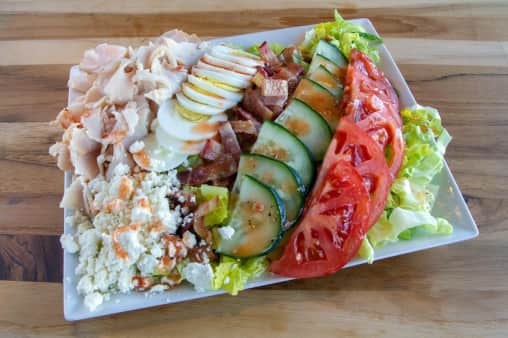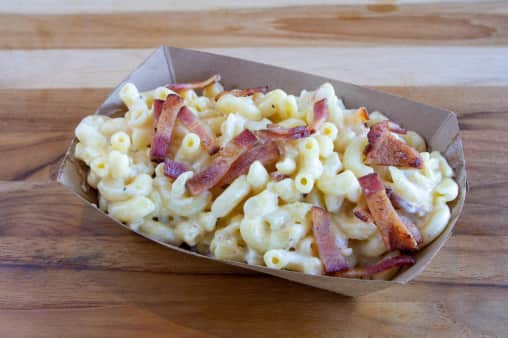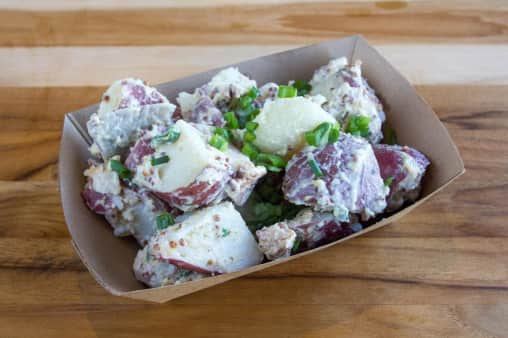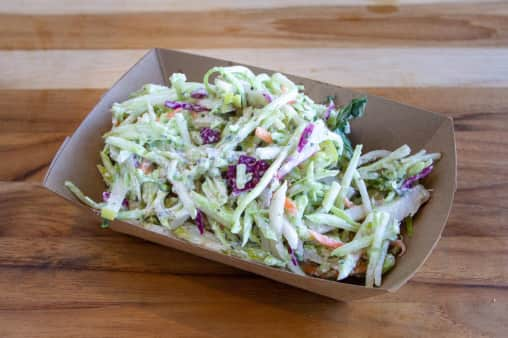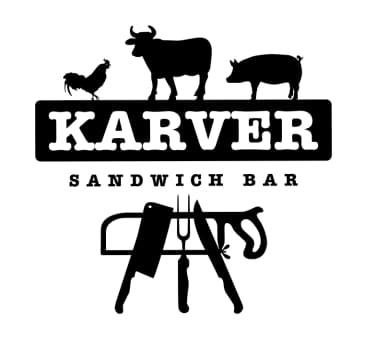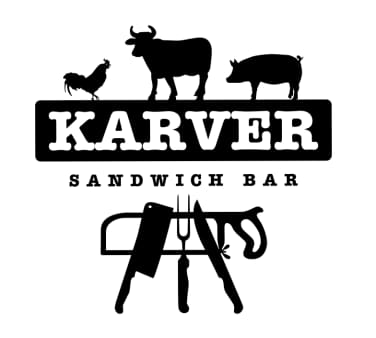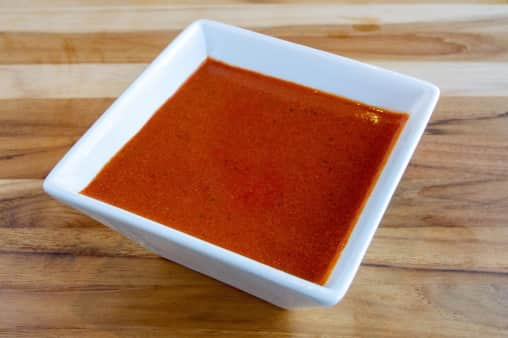 3X Chocolate Brownie
Salted Caramel Brownie.