Riverside Golf/ The Rambler
ARTICHOKE FROMAGE
Artichokes, White Wine, Garlic, Parmesan Served With Toast Points.
BOWL SOUP DU JOUR
Daily Chef's Creation
CHARCUTERIE BOARD
cured italian meats, kalamata olives, chef's choice aged & smoked cheeses, the 'spread,' artisan crackers
CRISPY CALAMARI
Served With Creamy Chipotle Or Marinara Sauce.
FISH TACOS
two blackened mahi mahi tacos, asian slaw, yuzu vinaigrette, chipotle cream
FRENCH ONION SOUP
beef broth soup, finished with crostinis and melted provolone
PORK 'WINGS'
3 trimmed, smoked pork shanks, fried crisp, mustard bbq, cheddar grits
SHRIMP COCKTAIL
tempura battered shrimp (5) mango salsa, traditional cocktail
---
tempura battered shrimp (5) mango salsa, traditional cocktail
GRILLED CHICKEN SANDWICH
Marinated Chicken Breast Served With Lettuce, Tomato, Onion & Your Choice Of Cheese.
THE 'COD'FATHER
guinness battered, fried fish, tartar sauce, lettuce, tomato onion, brioche roll
THE B + L + T
crispy bacon, lettuce, tomato, mayo, on your choice of white or wheat
THE CORDON BLEU
chicken tenders, ham, provolone, honey mustard, hoagie roll
THE CROISSANT
tuna or chicken salad on a croissant with lettuce, tomato and onion
THE FRENCH DIP
tender, sliced prime beef, melted provolone, jus; on a baguette
IMPOSSIBLE BURGER
impossible burger, provolone, lettuce, tomato, onion
Lafrieda Burger
Ten Ounces Of Angus Beef, Bacon Onion Jam, Smoked Gouda, Lettuce, Tomato & Pickles.
THE PLAIN JANE
ten ounces of angus beef, you build it, brioche roll
THE RAMBLER CLUB
Triple Decker Sandwich Made With Smoked Turkey, Black Forest Ham, Bacon, Sharp Cheddar, Swiss, Tomato, Lettuce, & Mayo Served On Your Choice White Or Wheat Bread.
THE REUBEN
Shaved Corn Beef With Melted Swiss Cheese, Sweet Roasted Sour Kraut & Russian Dressing On Marble Rye Bread.
COMFORT CABOOSE
Weekly Comfort Food Feature.
CHOPPED SALAD
Grilled Chicken, Gourmet Greens, Bacon, Fresh Vegetables, Onions, Tomato's, Olives, orecchiette, Walnuts, & Gorgonzola Cheese Dressed With Balsamic Vinaigrette.
COBB SALAD
Mixed Greens, Bacon, Egg, Blue Cheese, Avocado, Tomato & Grilled Chicken.
RAMBLER HOUSE SALAD
Iceberg & Harvest Blend Lettuce, Tomato, Cucumber<, Red Onion, Shredded Carrots, Cheddar Cheese & Croutons.
CLASSIC MARGHERITA
Garlic Parmesan Butter, Mozzarella, Roma Tomato's & Fresh Basil Topped With Balsamic Reduction
PEPPER, ONION & SAUSAGE PIZZA
Fire Roasted Peppers, Onions, Mozzarella & Italian Sausage Served On A Red Sauce
ROASTED VEGETABLE PIZZA
roasted vegetables, tomato, mushroom, garlic cream sauce on a cauliflower crust
THE TRADITIONAL PIZZA
your choice of two toppings pepperoni, sausage, onion, peppers, mushrooms, tomato, extra cheese +1.5; max 2 toppings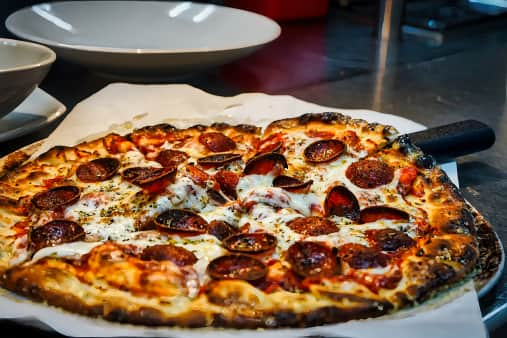 8oz SIRLOIN
maître d'hôtel butter
10oz RIBEYE
maître d'hôtel butter
12oz NY STRIP
maître d'hôtel butter
SEARED ATLANTIC SALMON
BBQ Melba sauce
HADDOCK
white wine, butter, lemon & old bay
CAJUN SIRLOIN & TORTELLINI
Cajun Sirloin Steak, Crabmeat, Corn, Roasted Peppers & Onions In A Cajun Cream Sauce.
CHICKEN ROMANO
romano crusted chicken, garlic and herbs
FISH FRY FRIDAY
Guinness battered haddock, sidewinders
LINGUINI ENTREE
marinara or alfredo +6 chicken* / +9 shrimp* / +8 steak* / +7 portabella
GRILLED PORK RIBEYE
scented jasmine rice, steamed broccoli, mango salsa
VEGETABLE PRIMAVERA
fresh vegetables, garlic, olive oil over linguine +6 chicken* / +9 shrimp* / +8 steak* / +7 portabella
BUFFALO CHICKEN MAC
romano crusted chicken, garlic and herbs
CHICKEN FINGERS
Chicken Finger
GRILLED CHEESE
Grill Cheese
RIGATONI & MEATBALLS
Rigatoni & Meatballs
SARAH'S CHEESECAKE
weekly selection made in house
CHOCOLATE LAVA CAKE
A Gluten-Free Molten Chocolate Cake That Combines The Elements Of A Chocolate Cake & A Souffle.
CRÈME BRÛLÉE
Seasonal selection.
FRUIT CRISP & VANILLA ICE CREAM
Homemade Fruit Crisp Topped With Oats, Brown Sugar & Butter
SARAH'S PEANUT BUTTER PIE
Fluffy goodness, peanuts, peanut butter, Reese's Peanut Butter Cups
VANILLA ICE CREAM
A Generous Scoop Of Ice Cream