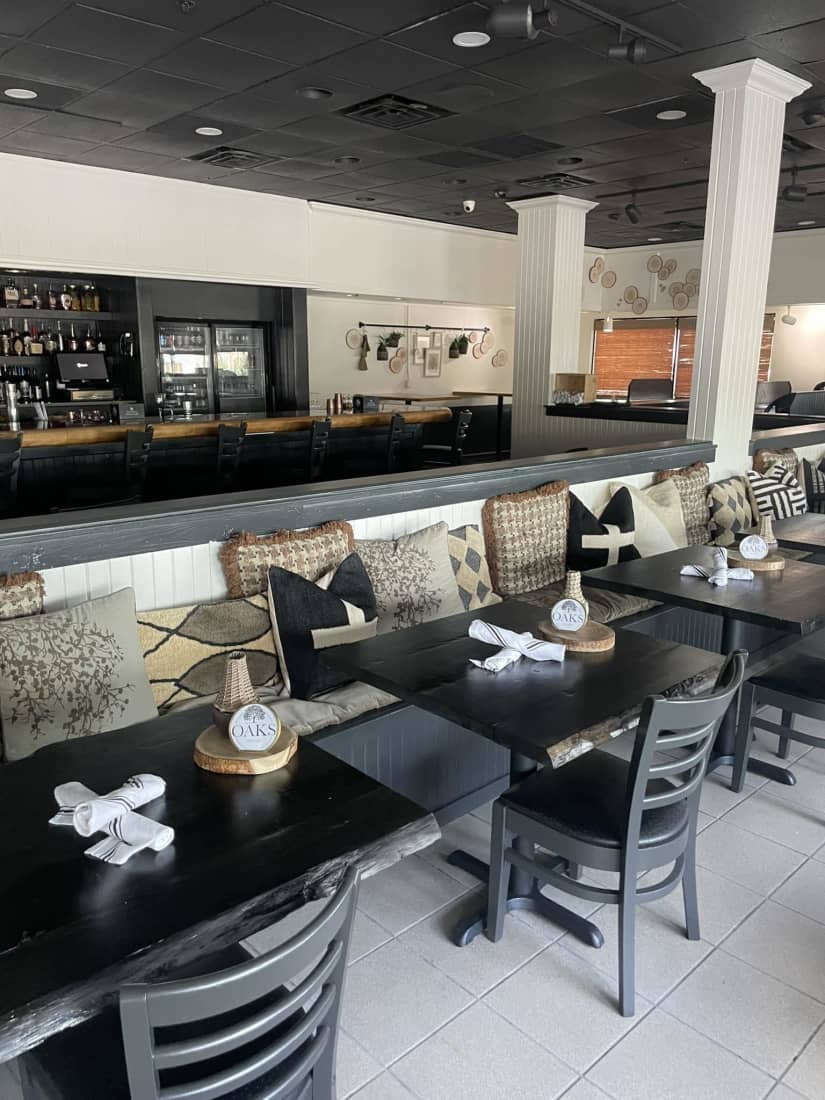 From:
4351 4th Street North, St Petersburg, FL
---
Crab Cakes
Two jumbo lump crab cakes, zesty mustard remoulade, heirloom tomato salad
Grilled Oysters
Garlic butter, toasted panko & parmesan cheese & chives. Served with grilled bread.
1/2 Dozen Raw Oysters
Freshly shucked oysters with accoutrements & house apple mignonette
Shrimp Cocktail
Four large shrimp with choice of house cocktail or remoulade sauce & wrapped lemon
Steak Tartare
Beef tenderloin, green apple, capers, truffle, pickled vegetable & fresh farm egg
Crab Stuffed Mushrooms
Broiled mushroom caps stuffed with lump crab & topped with parmesan
Coconut Curry Mussels
Coconut curry broth, cilantro, garlic, shallot, leeks, carrots, grilled bread.
D- Deviled Eggs
Duke's mayo, avocado, blistered corn, tajin, queso fresco, cilantro, chili pepper
Potato Chips
House made chips, honey drizzle, balsamic glaze, crumbled bleu cheese, green onion, parmesan.
Spicy Shrimp
Tail on jumbos, roasted pepper, garlic sauce, spicy house seasoned, green onion, grilled bread.
Baby Gem Caesar
Split lettuce head, aged parmesan, garlic crouton, anchovy crumble
French Onion
Beefy & herbaceous broth, garlic crouton topped with Swiss & parmesan
Mushroom Bisque
Button mushrooms, gold potato, truffle cream, crispy mushrooms & porcini dust
Napa Valley
Baby spinach, blue cheese, strawberries, candied pecans, tomato, cucumber, raspberry poppyseed vinaigrette
The Tuscan
Mixed lettuce, ham, olives, red onion, heirloom tomato, Swiss & parmesan cheese topped with parmesan vinaigrette
L -Bolognese
USDA prime house ground beef, Italian sausage, pork, tomatoes, shaved parmesan, whipped herb ricotta, house noodles, grilled bread.
L -Deep South
Deep fried meatloaf, tangy ketchup, sherry pepper cream, roasted carrots, broccolini, onion straws, roasted garlic parmesan and chive whipped potatoes.
L -Salmon Mediterranean
Mediterranean style with bean & couscous salad, zaatar spice, baby arugula, honey lemon yogurt, artichokes, kalamata olives, roasted red pepper, sherry vinaigrette.
Lump crab cakes, poached eggs, spinach, on a toasted English muffin. house hollandaise sauce & home fries
Pasta Bolognese
USDA Prime ground beef & pork, shaved parm, herbed ricotta, house noodles
Crab Cake Dinner
Three large Crab Cakes house remoulade sauce served with rice pilaf and heirloom carrots
Deep South Meatloaf
Deep fried meatloaf, tangy ketchup, baked potato & veg, sherry pepper cream
Fresh Catch Piccata
Chargrilled Fresh Catch, baked potato & veg, lemon butter capper cream sauce
Sous Vide Half Chicken
Crispy fried & smokey chicken, hot honey, heirloom carrots, rice pilaf, dressed in pan sauce
Twin Lobster Tail Dinner
Butterflied with BBQ butter and served with rice pilaf & asparagus. Drawn butter & wrapped lemon
Salmon Mediterranean
Zaatar spiced, lemon yogurt, couscous salad, artichokes, house parmesan vinaigrette.
Lamb Chops
Two 8oz grilled double cut lamp chops, served with blue cheese gratin, onion straws, and chimichurri.
All You Can Eat Mussels
Many ways Mondays AYCE coconut curry, house sugo, & lemon white wine sauce
Mussels REFILL
Many ways Mondays AYCE coconut curry, house sugo, & lemon white wine sauce
Chefs Chop's
All natural thick cut chop
Filet Mignon
The most tender cut of midwestern beef
Prime NY Strip
12oz Richly flavored, medium marbling with firmer texture
Prime Ribeye
14oz Highly marbled for flavor in every bite
Chocolate Torte
Salted caramel butter cake, toffee drizzle, chocolate chips, ganach, maple brown sugar ice cream