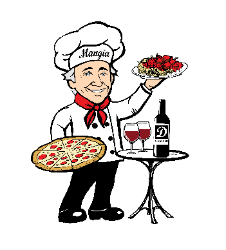 Appetizers
Arrancini
Risotto, mozzarella cheese and diced pancetta, shaped into a ball, lightly breaded and fried until golden brown; Served with our homemade marinara sauce
Salmon Cakes
Two homemade salmon cakes served with our zippy remoulade sauce
Fried Calamari
Served with spicy marinara sauce
Fried Ravioli
Cheese ravioli fried to a golden brown and served with marinara sauce
Mozzarella Sticks
Four large sticks of mozzarella cheese, hand breaded and served with marinara sauce
Mussels
A generous portion of PEI mussels served in your choice of garlic white wine sauce or red sauce
Pizzelles
Fried puffs of dough served over marinara sauce with mozzarella, pepperoni, onions, and jalapeños
Portabella Mushroom
Grilled Portabella mushroom filled with spinach pesto, roasted red peppers, and topped with mozzarella cheese and herbed bread crumbs in a pool of sweet balsamic vinaigrette
Shrimp Cocktail
Served with our own, made-in-house cocktail sauce
Warm Brie
Individual sized brie, served over mixed greens with toasted almonds, grapes and raspberry vinaigrette
Soup N Salad
Caesar Salad
Romaine lettuce tossed with our version of traditional dressing, topped with fresh Romano cheese and our homemade croutons. Add freshly cooked marinated chicken, or blackened chicken, or blackened shrimp
Cranberry Salad
Spring greens tossed in a Cranberry Vinaigrette with dried cranberries, a diced cucumber and celery mix, then garnished with toasted walnuts and Danish Bleu Cheese crumbles
Garden Salad
Mixed greens adorned with tomato, cucumber, and carrots, topped with homemade croutons. small
Grape Pear N Bleu Cheese
Mixed greens tossed in a Raspberry Vinaigrette with grapes, pears, and toasted pecans, then topped with Danish Bleu Cheese crumbles
Greek Salad
Mixed greens topped with feta cheese, Kalamata olives, artichokes, roasted red peppers, diced cucumber and celery mix, red onions; served with a red wine and olive oil vinaigrette ~ 10
Seafood Bisque
A delicious, rich blend of cream, sherry, shrimp and chopped clams
Tuscan Salad
Romaine and radicchio, salami, chick peas, banana peppers, Kalamata olives, red onion, tomato, Romano cheese and homemade croutons then drizzled with a balsamic reduction
Wedge Salad
A third of a head of Iceberg lettuce dressed with Bleu Cheese dressing, topped with bacon, diced tomatoes and Danish Bleu Cheese crumbles
Pastabilities
Cheese Tortellini
Your choice of sauces: Pink Sauce or Alfredo ~ 17, Marinara ~ 14, Or Meat Sauce ~ 16
Chicken and Mushrooms in Marsala Cream Sauce
Served With julienne chicken, topped with frizzled onions, served over penne
Fettuccine Alfredo
Ultra rich Alfredo cream sauce with Romano cheese ~ 16, with broccoli ~ 17, with pancetta or shrimp ~ 20, with chicken ~ 19
Fettuccine Daniel
Fettuccine tossed in a creamy Alfredo sauce with chicken, broccoli, and topped with toasted walnuts ~ 19, without chicken ~ 16, with shrimp (no chicken) ~ 20
Florentine
Garlic white wine sauce with spinach, sun dried tomatoes, Kalamata olives, linguine and topped with feta cheese
Madeira Cream Sauce
Madeira wine cream sauce with grilled portabella mushrooms, sun dried tomatoes, tossed with fettuccine and topped with frizzled onions
Penne Alla Casa
The house favorite! A heavenly concoction of red sauce and cream, garlic, Romano cheese, sun dried tomatoes, and spinach ~ 16 , chicken ~ 19, pancetta or shrimp
Penne Alla Vodka
A rich vodka based pink sauce. Accented with garlic and Romano cheese ~ 16 with chicken ~ 19, pancetta or shrimp
Penne W Sausage
Sliced Italian sausage sautéed in a garlic white wine sauce, then tossed with white beans, penne, and fresh spinach
Primavera
Penne in a white wine garlic sauce, sautéed with artichokes, Kalamata olives, roasted red peppers, broccoli and sun dried tomatoes then sprinkled with feta cheese
Seafood
Cajun Linguine
Served in a Cajun spiced cream sauce with roasted red peppers and a black bean salsa garnish served over linguine ~ 19, substitute chicken ~ 18 with salmon filet ~ 20
Clams In Linguine
Your choice of garlic white wine sauce or red sauce; served over linguine ~ 18
Frutti Di Mare
Shrimp, mussels and clams are sautéed in a white wine garlic cream sauce and served over linguine ~ 24
Linguine Calamari
Available two ways: Calamari either sautéed in a garlicky, spicy marinara sauce served over linguine, or: Calamari fried and piled on top of spicy marinara with linguine. Calamari sautéed ~ 19 , Calamari Fried ~ 19, Calamari sautéed AND fried ~ 23 PLEASE INDICATE HOT, MEDIUM, OR MILD
Linguine Primavera Mediterranean With Shrimp
Artichokes, Kalamata olives, roasted red peppers, broccoli, and sun dried tomatoes are cooked in a garlic white wine sauce, with linguine and sprinkled with feta cheese ~ 20 without shrimp ~ 17, substitute chicken ~ 18 SUBSTITUTE PIECES OF SALMON ~ 20
Linguine Puttenesca
A robust, SPICY tomato sauce consisting of Kalamata olive paste, capers, garlic, and a hint of anchovies, served over linguine ~ 20, without shrimp ~ 16, substitute Salmon ~ 20 PLEASE INDICATE HOT, MEDIUM, OR MILD.
Linguini Mussels
Your choice of garlic white wine sauce or red sauce; served over linguine ~ 18
Penne w/ Goat Cheese
In a delectable cream sauce with sun dried tomatoes, roasted red peppers, onions, and Kalamata olives ~ 20 without shrimp ~ 17, with chicken (no shrimp) ~ 19
Salmon Dill
Fresh pieces of Atlantic Salmon sautéed in a lemony dill cream sauce with roasted red peppers, fresh spinach, and tossed with fettuccini ~ 20
Seafood Fra Diavlo
Shrimp, mussels, calamari, and fresh clams are simmered in a SPICY red sauce and beautifully presented over linguine ~ 24. Please indicate hot, medium, or mild
Shrimp Fra Diavlo
Sautéed shrimp in a spicy red sauce served over LINGUINE ~ 19. PLEASE INDICATE HOT, MEDIUM, OR MILD
Ravioli
Cheese Ravioli
Cheese ravioli tossed in marinara sauce ~ 13 or topped with baked mozzarella ~ 15.5
Lobster Ravioli
Served in an incredible pink sauce with roasted red peppers and snow peas ~ 20 with shrimp ~ 24
Mushroom Ravioli
Served in a sensational Marsala Cream sauce with fresh mushrooms, topped with frizzled onions ~ 17
Southwest Ravioli
A robust filling of beans, corn, cheese, and more served in a Cajun cream sauce and garnished with a black bean salsa ~ 16, with chicken ~ 19, with shrimp ~ 20
Traditional Favorites
Baked Sausage, Peppers, And Onions
Served over penne pasta with marinara sauce and baked with mozzarella cheese ~ 17
Baked Ziti
Pasta is baked in a mixture of marinara sauce and ricotta cheese, topped with mozzarella cheese ~ 16 with meat sauce (no ricotta cheese)
Baked Ziti Meat Sc
Pasta is baked with meat sauce (no ricotta cheese) topped with mozzarella cheese
Lasagna
Tender layers of fresh pasta filled with ricotta cheese, a layer of ground beef, smothered with mozzarella and served with marinara sauce ~ 17 with Meat Sauce ~ 19
Spaghetti
With our homemade marinara ~ 13, Add fresh mushrooms ~ 15, Meatballs, Italian Sausage OR Meat sauce featuring ground beef and wine ~ 17
Veal Cannelloni
Featuring fresh ground veal with ricotta, mozzarella and parmesan cheeses wrapped in pasta, topped with melted mozzarella, frizzled onions, and served with a mushroom cream sauce ~ 18
Pizza
Specialty Pizza
BLT
Fresh Tomatoes, Mozzarella, Bacon, Lettuce, and Ranch
Deluxe
Pepperoni, sausage, green pepper, onion, mushrooms, and mozzarella cheese and traditional pizza sauce.
Garden Pizza
SPINACH, TOMATO, ONION, MUSHROOM, GARLIC, AND MOZZARELLA CHEESE ON A TRADITIONAL RED
Hawaiian
CANADIAN BACON, PINEAPPLE, MOZZARELLA AND CHEDDAR CHEESES
Margherita
FRESH SLICED ROMA TOMATOES, OLIVE OIL, GARLIC, PIECES OF FRESH MOZZARELLA CHEESE AND FRESH BASIL (NO RED SAUCE, CHEESE DOES NOT COVER ENTIRE TOP)
Meat Lover
PEPPERONI, ITALIAN SAUSAGE, CANADIAN BACON, BACON, GROUND BEEF AND MOZZARELLA CHEESE
White
MOZZARELLA, PROVOLONE, ROMANO AND RICOTTA CHEESE (NO PIZZA SAUCE)
Chef Selections
Orange Arugula Salad
Sliced oranges tossed in a bed of spring mix with a chili citrus vinaigrette, topped with red onions, toasted almonds and feta cheese.
Vegetable Minestrone
Vegetable Minestrone This tomato broth soup features garden fresh vegetables, and cheese filled tortellini. $8
Tomato and Basil Bruschetta
Diced fresh tomatoes, parmesan cheese tossed with olive oil, fresh basil and black pepper, served atop a house-made focaccia bread, then drizzled with a balsamic reduction.
Blackened Shrimp Risotto
Blackened shrimp sit atop a bed of creamy risotto, topped with a fresh tomato basil salsa.
Lemon Mussels
Fresh Prince Edwards Island Mussels sautéed in a delicate lemon white wine sauce, with fresh herbs, diced tomatoes, and house-made pancetta over a bed of linguine.
Chicken Cannelloni
Fresh diced chicken mixed with parmesan cheese, ricotta cheese, and mozzarella, wrapped in pasta, and served in a mushroom cream sauce, topped with mozzarella cheese, fried onions, and diced red peppers.
Classic Choices
Franchaise
Your choice of veal, chicken, or shrimp dipped in egg and sautéed in a delicate, white wine, lemon, garlic sauce. Served over linguine; Veal ~ 20 Shrimp ~ 19 Chicken ~ 18
Marsala
Fresh mushrooms are sautéed in an aromatic Marsala wine sauce with your choice of veal or chicken. Served over linguine; Veal ~ 20 Chicken ~ 18
Parmesan
Choice of veal, chicken, or eggplant hand breaded, quickly fried, smothered in marinara sauce and topped with mozzarella cheese. Served over linguine; VEAL ~ 20 CHICKEN ~ 18 SHRIMP ~ 19 EGGPLANT ~18
Piccata
Shrimp, veal, chicken or salmon sautéed in a delicate lemon, garlic, white wine sauce with capers. Served over linguine; VEAL ~ 20 SHRIMP ~ 19 CHICKEN ~ 18 SALMON ~ 20
Desserts
Chocolate Cream Pie
Chocolate Cream Pie (NO nuts or eggs) – this dessert starts with a graham cracker crust made from sugar, butter, and graham cracker crumbs. The filling is made from semi-sweet chocolate, milk and vanilla extract. All of this is topped with whipped cream made from heavy whipping cream, sugar, and vanilla extract
Chocolate Marble Cheese Cake
Chocolate Truffle W Raspberry
Raspberry White Chocolate Cheesecake
Sides