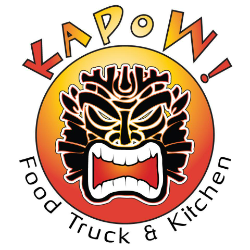 Stir-Fry Gluten Free Sauce
Drunken Noodles
Pad Khi Mao or "Drunken Noodles" is a classic Thai dish. We stir-fry vegetables with broad, tender rice noodles in a spicy, savory sauce. It's hearty and deliciously textured! Starts at a light level 2(two) and cannot be less
Kapow Fried Rice
Woked rice, eggs, bell peppers, snow peas, and bean sprouts in Thai Guy's stir fry sauce. Topped with fresh cucumbers and cilantro
Lo-Pow! Mein
Stir-Fried Egg Noodles In Our Garlic Chili Stir-Fry With Bell Peppers, Cabbage, broccoli, Onions, Carrots And Topped With Cilantro Starts at a light level 2(two) and cannot be less
Pad See Ew
Translates to stir-fried thick rice noodles, broccoli, and carrots in a soy sauce. It is an extremely popular Thai street food meal. Indulge yourself with ours!
Pad Thai
Stir-fried rice noodles with egg, tofu, and protein in a house-made tamarind sauce. Topped with bean sprouts, scallions, & peanuts (Optional).
Teriyaki Noods
Woked pineapples, onions, carrots, zucchini, squash, snow peas ,egg noodles and than topped with sesame seeds & cilantro
Honey Chicken Bowl
Lightly battered boneless breast fried and then tossed in Chef's homemade honey sauce. Topped with scallions, cilantro, and sesame seeds.
Huli Huli Bowl
Hawaiian teriyaki with bell peppers, zucchini, squash, onions, and pineapples topped with sesame seeds and cilantro. Please choose your protein
Panang Curry Bowl
Spicy and creamy Panang curry with zucchini, squash, and Thai basil. Starts at a light level 2(two) and cannot be less
Seoul Bowl
Korean style BBQ paired with kimchi and topped with Korean sauce, sesame seeds, and scallions .
Veggie Bomb Bowl
"Wok fresh vegetables in teriyaki sauce topped with scallions and sesame seeds. "
Buddha Bellies
Hand-pressed dumplings stuffed with water-chestnuts, turkey, shrimp, and veggies. Get them Seared, steamed or Deep Fried
Krabby Wontons
Claw crabmeat seasoned and mixed with a light amount of cream cheese folded in a cripsy rice paper dumpling and served with our homemade srircha aioli
Thai Guy's Wings
(8pcs) crispy wings sautéed in the "Thai Guy's Chili Sauce". If you love our sauce...take one home today!
Veggie Spring Rolls
(4pcs) golden fried and served with our famous Thai Guy's chili sauce.
The Kapow Roll
Our famous egg roll: Stir-fried turkey, shrimp, crab, and veggies hand-rolled into an egg roll. Served with a side of delicious Thai Guy's chili sauce.
Buddha Belly Soup
Our buddha belly dumplings bathed in a Thai chicken stock with cilantro, scallions, bean sprouts, and cabbage | Contains Gluten
Thai Noodle Pho
Thin, thick rice noodles or egg noodles in our homemade Thai chicken broth with scallions, carrots, bean sprouts, cilantro, and Thai herbs. Choose from Veggie or Tofu +$1.00 | Chicken 1.50 |Steak +$1.75 | Add Shrimp +$2 | Add Crab $4.00
Tom Yum (Gluten Free)
Thailand's version of hot and sour soup. Hot and sour lemongrass broth with bell peppers, onions, and mushrooms. Topped with cilantro | With Chicken $5.00 | With Shrimp $6.00 Starts at a light level 2(two) and cannot be less
K-Pop Taco
Korean BBQ steak topped with kimchi, scallions, and cilantro.
Sunset Shrimp Taco
Grilled shrimp topped with pineapples, scallions, cilantro, and delicious Asian slaw.
Veggie Taco
Sautéed mixed veggies in teriyaki sauce.
Crispy Fish Taco
Crispy Fish Tacos with an asian slaw on flour tortillas