From:
301 SE Douglas St, Lees Summit, MO
---
Boneless Wings
All white meat chicken tenders are fried to a crisp golden finish and tossed in your choice of sauce: Llywelyn's original, dragon's breath, honey-garlic, garlic-parmesan or firecracker.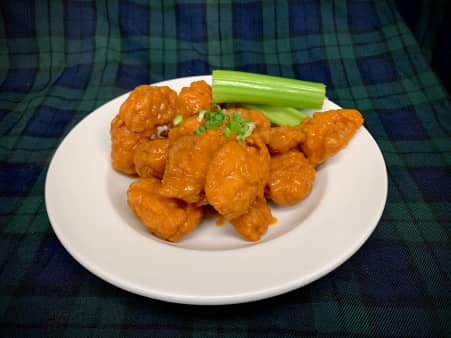 Buffalo Chicken Flatbread
Grilled or Fried chicken tossed in original sauce and topped with ranch dressing, red onion, provel, lettuce and tomato all atop an artisan flatbread.
Dragon Wings
One pound of traditional chicken wings with your choice of sauce: Llywelyn's original, dragon's breath, honey garlic, garlic-parmesan or firecracker.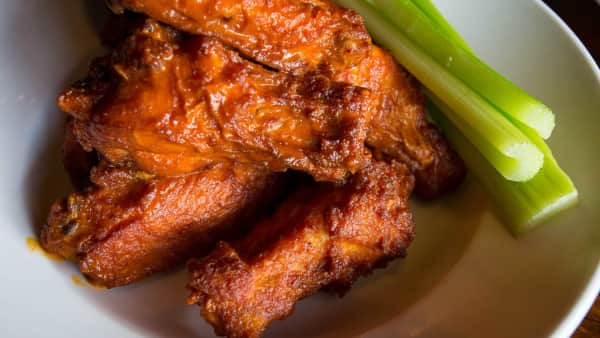 Extra Pita
Extra pita for Spinach Artichoke Dip
Irish Nachos
Our house made potato chips are smothered in pepper cheese, corned beef, bacon, tomato, jalapeno and 1000 island dressing.
Mac n' Cheese Bites
Mac & cheese with a wee bit of jalapeno is breaded, then fried. Served with ranch dressing.
Mini Burgers
It started here! Four two-ounce Certified Angus Beef burgers are served with fried onions, pickles and tomatoes.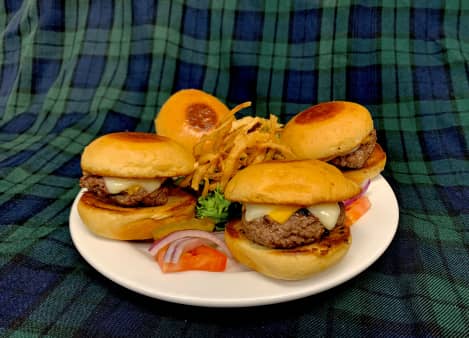 Pub Pickles
Back, but with a twist. Pickle Chips are breaded, then fried to a golden crisp. Served with Ranch or Tarter
Pub Pretzels
Three pretzels dipped in garlic butter and salted. Served with your choice of pepper cheese sauce or house-made whiskey mustard.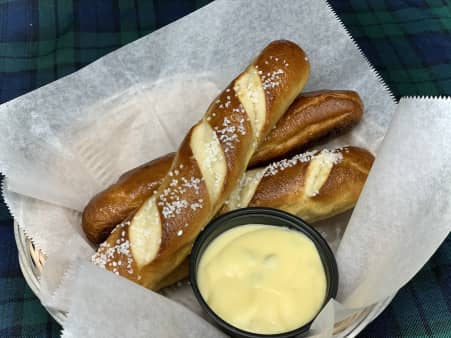 Spinach Artichoke Dip
Spinach and artichokes blended with cream cheese, herbs, Parmesan cheese, and topped with tomatoes. Served with baked pitas.
Welsh Potato Chips
The Original St. Louis Pub Chip! Ours are hand sliced very thinly and fried to perfection. Great with a Pint! Add a side of pepper cheese to top off the experience.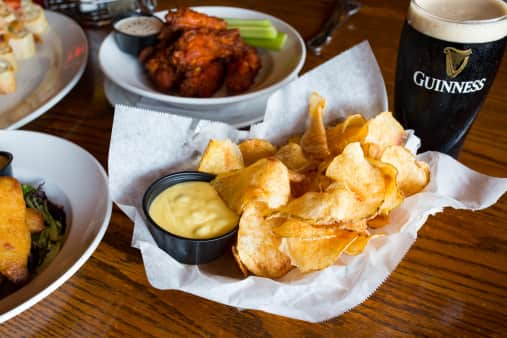 Caesar Salad
Romaine tossed in our own house made Caesar dressing with house made croutons and Parmesan cheese.
Country Chicken Salad
Crispy lettuces, grilled or fried chicken breast, grape tomatoes, bacon, red onions and topped with cheddar cheese.
Llywelyn´s House Salad
Mixed greens, white cheddar cheese, English cucumbers, grape tomatoes, sunflower seeds and fried onions.
Soup of the Day
Made fresh daily! Call the Pub for today's soup option.
Tomato Bisque
House made creamy tomato bisque.
White Chicken Chili
Our award-winning chili is a blend of all white meat, navy and garbanzo beans, pepperocini peppers and cream.
Irish Breakfast Sandwich
Corned beef, 2 fried eggs, giardiniera, and our famous pepper cheese, served open-faced on an English muffin with your choice of side.
Buffalo Club
Dill marinated fried chicken breast or grilled chicken with Swiss cheese, bacon, lettuce, tomato and onion tossed in our famous Dragon sauce!
Buffalo Chicken Wrap
Your choice of fried or grilled chicken tossed in mild wing sauce, mixed with tomatoes, lettuce, provel and your choice of ranch or bleu cheese dressing, with your choice of side.
Brittany Chicken Salad
All white meat, pecans, onions, craisins, celery, tomatoes, and cheddar cheese with a tangy dressing. Sered on freshly baked multi-grain croissant.
Chicken Club
Dill marinated grilled or fried chicken breast with Swiss cheese, bacon, lettuce, tomato and onion.
Classic Burger
A half pound classic burger with your choice of cheese, topped with lettuce, onion, pickle and tomato. Served on a toasted brioche bun with your choice of side.
Llywelyn's Cowboy Burger
House burger topped with sharp cheddar, crispy bacon, jalapenos, crispy fried onions and our house made BBQ. Served on a brioche bun with your choice of side.
Double Dip Sandwich
Roasted beef & turkey on ciabatta with our house cheddar blend, caramelized onions and jalapenos. Served with horseradish sauce and au jus for dipping, with your choice of side.
Fish & Chips Sandwich
Our beer battered cod is served "tavern-style," with house-made tartar sauce, red onions, and melted American cheese on a brioche roll.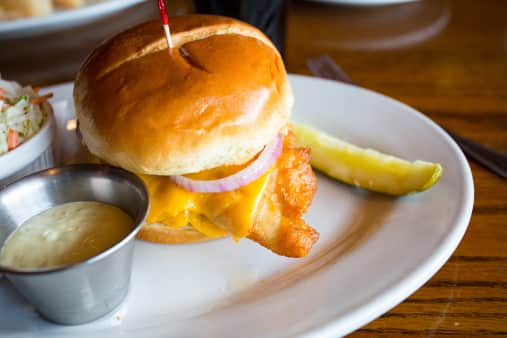 The "Adult" Grilled Cheese
White cheddar, Provel, Muenster, American and Gouda cheeses are melted together on grilled sourdough bread, and presented with tomato bisque for dipping.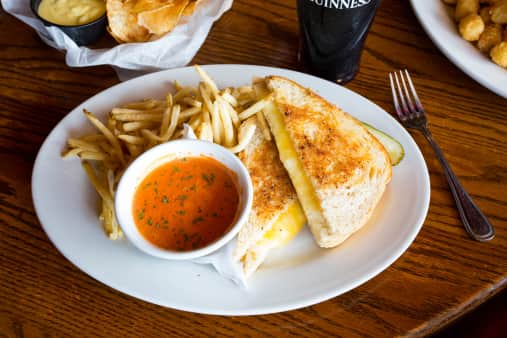 Llywelyn's B.B.L.T.
Sliced bacon, shredded bacon, herbed mayo, shredded romaine and tomato slices served on tossed ciabatta with your choice of side.
Chicken & Cheese Sandwich
Just like our famous Steak & Cheese sandwich, only different! A grilled chicken breast is sliced, then covered in our pepper cheese sauce and topped with fried onions and tomatoes.
Llywelyn's Reuben
Irish corned beef is slow cooked overnight and layered with spicy sauerkraut, Swiss cheese and 1000 Island dressing. Served on traditional grilled pumpernickel. A true house specialty.
Llywelyn's St. Paddy Melt
Two Certified Angus Beef patties topped with American and Swiss cheese, fried onions, and smothered in 1000 island dressing. Served on sourdough with your choice of side.
The Famous Steak and Cheese
The St. Louis Steak Sandwich. A half-pound of marinated steak grilled, sliced and covered in our pepper cheese sauce. Topped with fried onions and tomatoes. An institution!
The Diner
Two Certified Angus Beef patties are pan-seared and stacked with layers of melted cheese, lettuce, tomato, red onion, pickles and mayo. Add a third layer of meat and cheese if you'd like.
The Impossible
The Impossible has become possible! Our vegetarian patty tastes just like the real thing. Topped with your choice of lettuce, onion, tomato and pickle and served on an egg-free brioche bun.
The Llywelyn
A Half Pound Burger smothered with house made pepper cheese, topped with crispy fried onions and served on a toasted brioche bun.
The Pub
Our award winning Pub Burger is pan seared and topped with caramelized onions, crispy bacon and soft sharp cheddar. Served on a toasted English muffin.
Turkey Club
In-house, slow roasted turkey is hand carved and piled high on sourdough bread along with crispy bacon, smoked gouda, Cajun mayo, and topped with shredded romaine, red onion and tomato.
Fish & Chips
Two cod filets dipped in beer-batter and fried. Served with our house-made tartar sauce, mushy peas and your choice of Llywelyn's Pub chips or traditional "chips" (fries).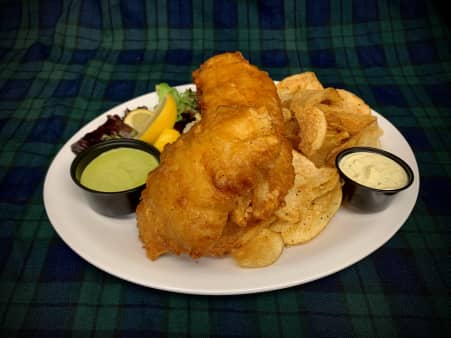 Chicken Strip Plate
Five breaded chicken fingers served with your choice of fries and dipping sauce. (Ranch or Honey Mustard)
Shepherd's Pie
Garlic mashed potatoes, seasoned ground beef, sautéed onions and cheddar cheese with a mushroom-sherry cream sauce.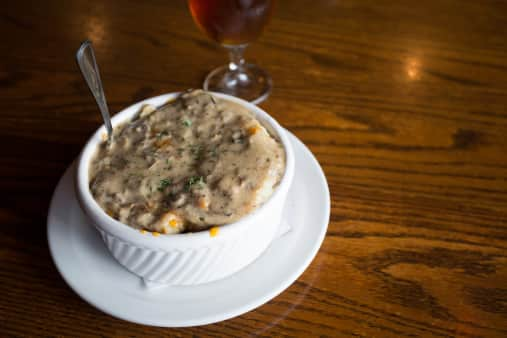 Bangers & Mashed
Two grilled lamb sausages, roasted garlic mashed potatoes, and green beans, served with bourbon leek gravy.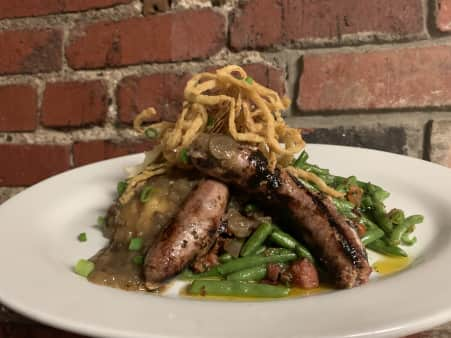 Pot-Roast
Tender pot-roast braised in bourbon-leek sauce and served on a mound of garlic mashed potatoes with carrots and peas.
Bourbon Leek Chic
Marinated chicken breast topped with provel and bourbon-leek sauce with garlic mashed potatoes and green beans.
BYO Adult Mac & Cheese
Gemelli pasta tossed in our house pepper cheese with parsley bread crumbs and fried onions. Choose as many add-ons as you like!
Sweet Potato Waffle Fries
1/2 Sandwich with Famous Chips
Caesar or Buffalo Chicken Wrap