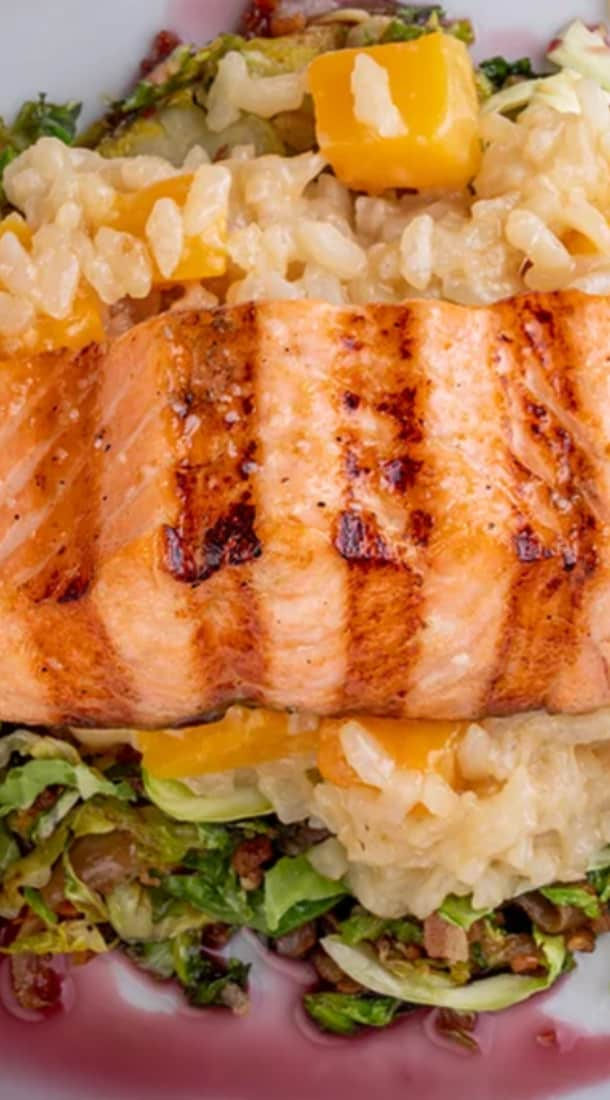 Trezo Mare Restaurant and Lounge
Bruschetta
Daily made focaccia bread, basil pesto, roasted tomatoes, house made mozzarella, balsamic reduction, basil and olive oil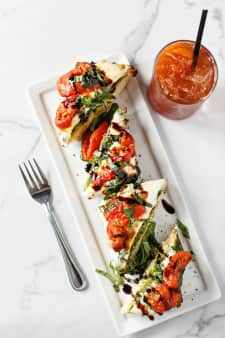 Calamari
Breaded and fried calamari steak strips, marinara
Chicken & Artichoke Dip
Corn tortilla chips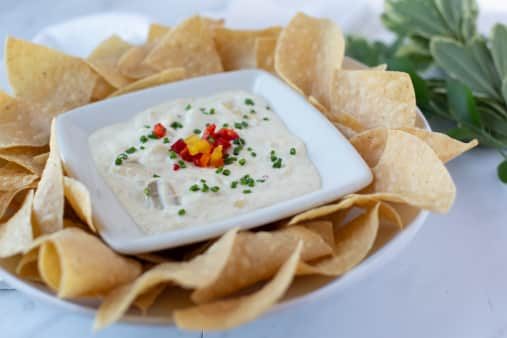 Baked Garlic Bread
Brioche, roasted garlic, shreddedfonzarella,
Goat Cheese Fondue
Warm pretzels, flatbread crackers, grapes, red pepper pesto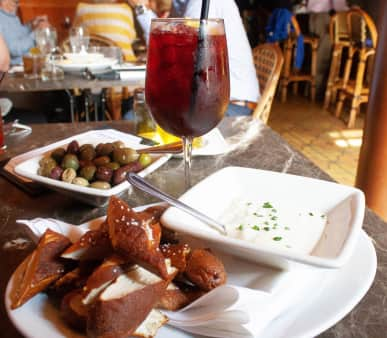 Little Neck Clams
Garlic, roasted tomato, sauteed zucchini, white wine tomato broth, garlic cheese bread
Honey Bourbon Pork Belly Appetizer
Braised honey bourbon pork belly, apple & cabbage slaw, honey bourbon glaze
Trezo Rolls
Wonton wrapped, bolognese, fonzarella, marinara sauce
Tuna Tartar
Smoked salmon lox, lemon poached shrimp, citrus crab meat, seasoned flatbread crackers, red pepper pesto & peppadew cream cheese spread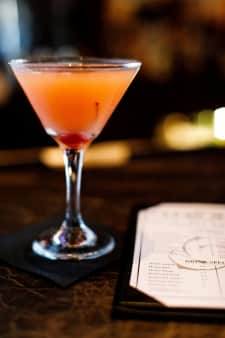 Red Sangria To-Go
Made in house with red wine, orange liqueur, & fresh fruit juices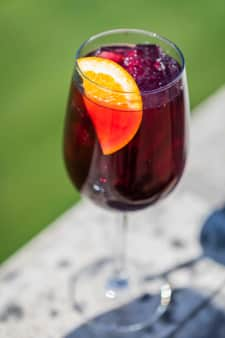 Spicy Pepe Margarita To-Go
The Trezo To-Go
House-Infused Berry Vodka, Lemonade
White Sangria To-Go
A light, fresh orange-infused white wine with fresh fruit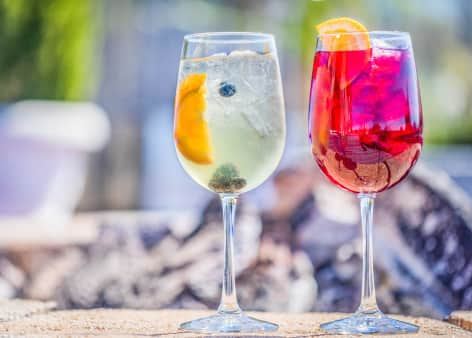 Chocolate Bars
Milk chocolate mousse, crunchy peanut butter base, peanuts, caramel sauce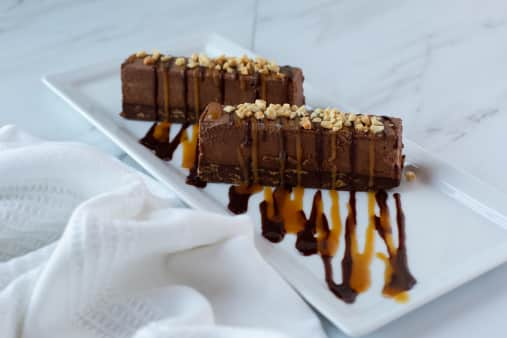 White Chocolate Strawberry Cheesecake
Graham cracker crust, white chocolate strawberry filling, whipped cream
Creme Brulee
Vanilla bean Italian custard, brulee topping, mixed berries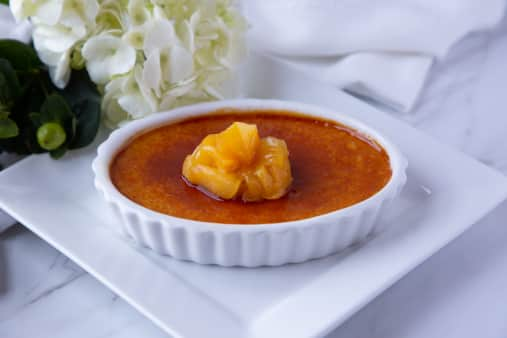 Tiramisu
Classic presentation, cocoa powder, whipped cream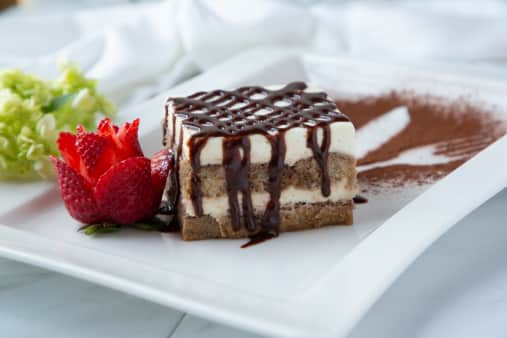 Flourless Chocolate Cake
Chocolate cake, dark chocolate mousse filling, chocolate ganache, strawberry compote
Lrg Baby Spinach
Baby spinach, goat cheese crumbles, praline bacon, red onion marmalade, pear vinaigrette dressing
Boulevard Salad
Boulevard beer-battered chicken, mixed greens, bacon, tomatoes, egg, pepper jack cheese, tortilla chips, asiago peppercorn dressing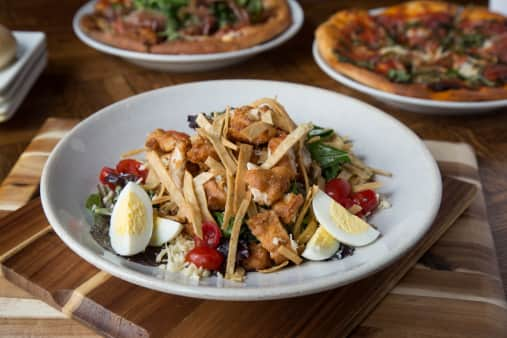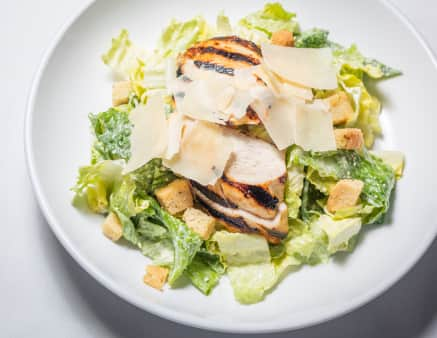 Trezo Chicken Salad
Grilled chicken, kale, romaine, pepperoni, fonzarella, cherry tomatoes, avocado, roasted red peppers, flatbread crackers, poppyseed dressing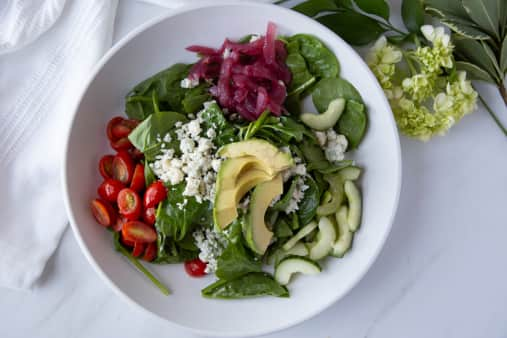 Lrg Crisp Greens
Fonzarella, cherry tomato, cucumber, choice of balsamic vinaigrette or asiago peppercorn dressing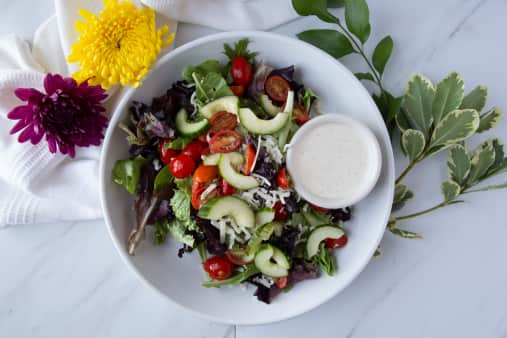 Salmon Salad
Wood-fired salmon, kale, romaine, sliced almonds, jicama, roasted red peppers, goat cheese, balsamic vinaigrette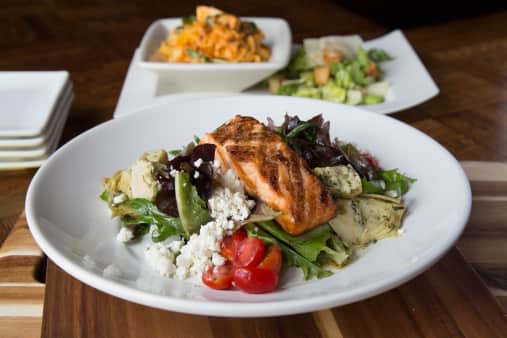 Steak Wedge
Wood-fired petite tender, grilled romaine, smoked cherry tomatoes, blue cheese crumbles, caramelized onion, asiago peppercorn dressing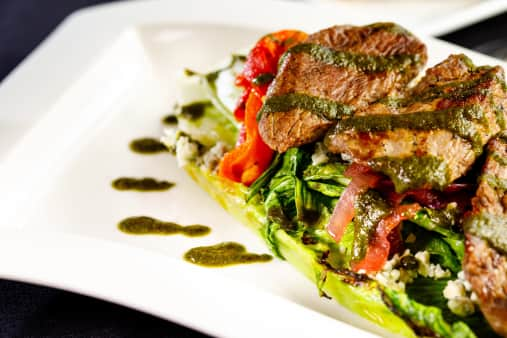 Lrg Kale Salad
Cherry tomatoes, sliced almonds, goat cheese, poppyseed dressing
6oz Filet
Garlic mashed potatoes, sauteed green beans, Bordelaise
8oz Petite Tender
Garlic mashed potatoes, Chef's vegetable, Bordelaise
Surf & Turf
6oz. filet, three jumbo shrimp, flash fried purple potatoes, sautéed baby carrots, Bordelaise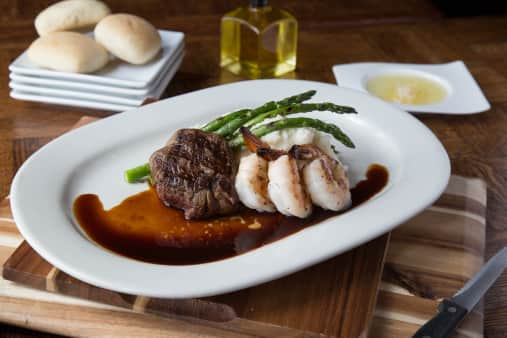 14oz Prime Ribeye
Trezo's potato gratin, wood-fired asparagus, Bordelaise
Pork Saltimboca
Sauteed pork loin, prosciutto, provolone cheese, garlic mashed potatoes, sauteed green beans, marsala cream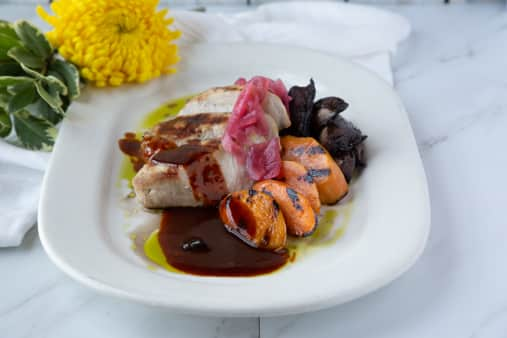 DN Salmon Tacos
House smoked and blackened salmon, three soft shell tacos, Italian slaw, spicy aioli, marinated vegetables, Trezo hot sauce, rosemary fries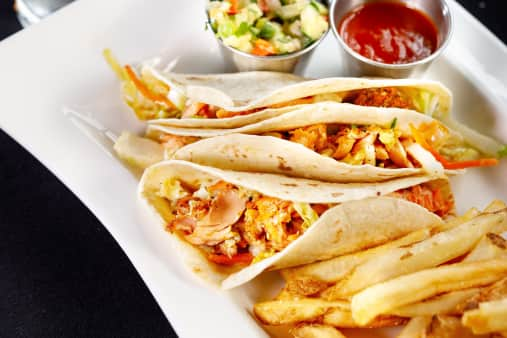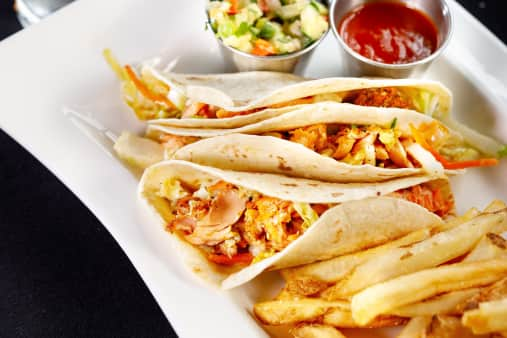 Braised Boneless Short Rib
Horseradish mashed potatoes, Brussels sprouts with caramelized onion and bacon, horseradish gravy. Topped with crispy onions.
Chicken Piccata
Sautéed chicken breast, garlic mashed potatoes, spinach, lemon caper pan sauce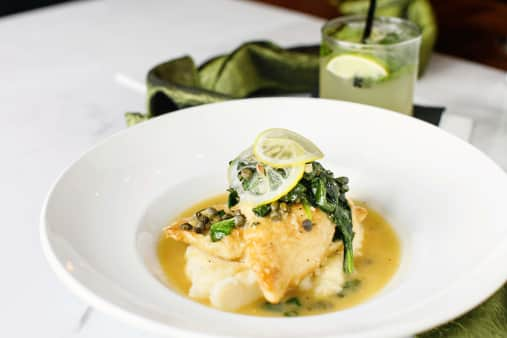 Pork Chop
Lightly dusted, pan seared 12oz. pork chop, horseradish mashed potatoes, sauteed green beans, marsala cream sauce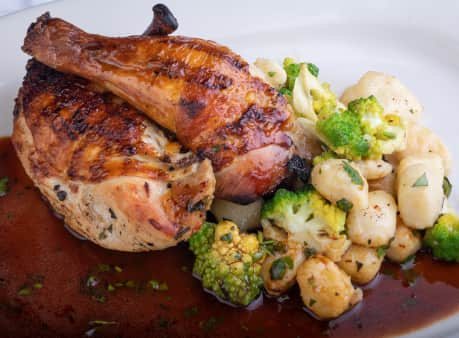 DN Pork Belly
Creamy cheddar polenta, sauteed baby carrots & kale, honey bourbon glaze, crispy fried onions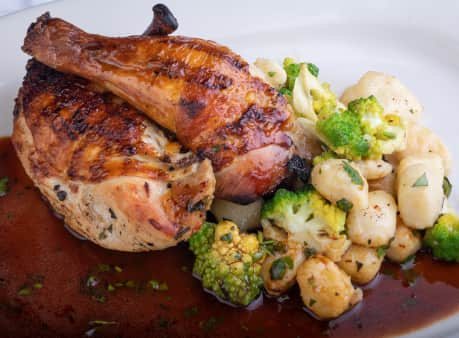 Roasted Chicken
Local Buttonwood Farms half chicken, butternut squash risotto, sauteed romanesco, savory chicken demi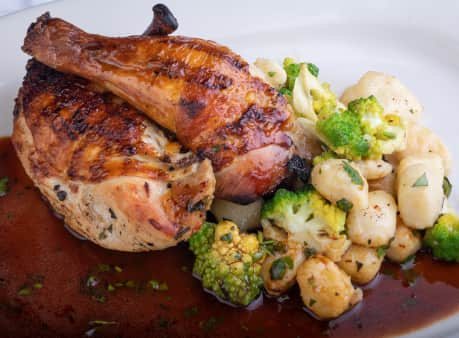 Trezo Burger
8oz. burger, bacon, provolone, oven roasted tomatoes, Trezo sauce, arugula, brioche, rosemary fries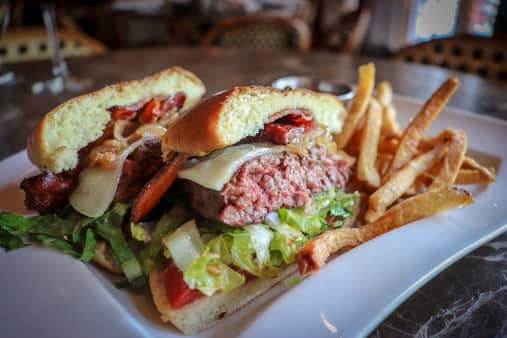 White Pizza
Shrimp, crispy pork belly, mixed mushrooms, spinach, fonzarella, bechamel sauce
Margherita
House made mozzarella cheese, roasted tomatoes, roasted garlic, basil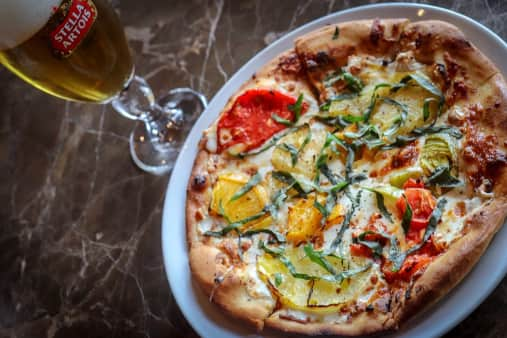 Chorizo Pizza
Scimeca's chorizo sausage, pepperoni, marinara, fonzarella, candied jalapenos, basil
Cheesesteak Pizza
Shaved ribeye meat, cheese sauce, fonzarella, caramelized onion, roasted red pepper, crispy fried onions
Sausage & Pepperoni
Marinara, fonzarella cheese
En Fuego
Variety of Fish, shrimp, mussels, sausage, basmati rice, vegetables, lobster saffron broth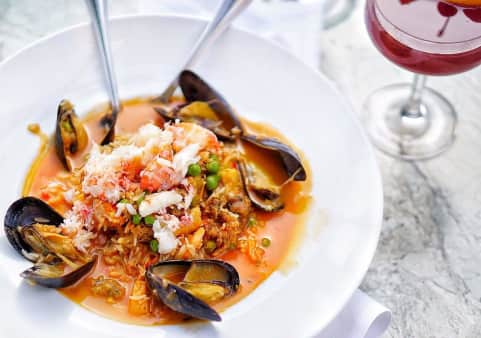 Organic Salmon
Wood-fired salmon, black forbidden rice, poblano beurre blanc, sautéed baby carrots
Walleye
Pan seared Walleye, butternut squash, flash fried purple potatoes, bacon, leeks, warm bacon dressing
Halibut
Pan seared Halibut, fregola sarda pasta, vegetable medley, white wine garlic cream
Shrimp and Risotto
Herb marinated and wood-fired shrimp, saffron risotto, sautéed broccolini, red pepper beurre blanc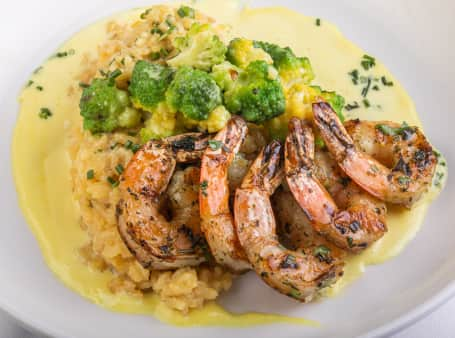 Wood-Fired Scallops
Purple potatoes, wood-fired asparagus, roasted cauliflower, buerre monte & balsamic reduction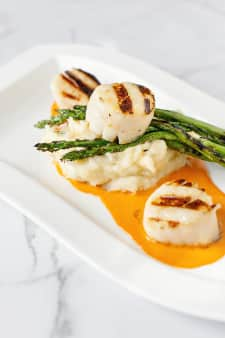 Baby Spinach Salad
Baby spinach, goat cheese, praline bacon, red onion marmalade, pear vinaigrette dressing
Potato Leek Soup
Tomato, peppers, onions, chicken stock, shredded chicken
Caesar Salad
Crisp romaine, parmesan, focaccia croutons, classic Caesar dressing
Crisp Greens Salad
Fonzarella, cherry tomato, cucumber, choice of balsamic vinaigrette or asiago peppercorn dressing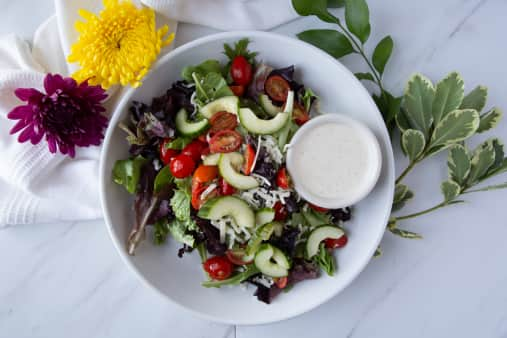 Iceberg Wedge
Cherry tomatoes, bacon, blue cheese crumbles, croutons, Asiago peppercorn dressing
Fusilli Diablo
Garlic, asparagus, spicy vodka cream sauce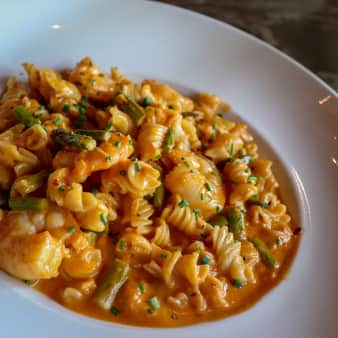 Short Rib Rigatoni
House made rigatoni, short rib, red wine marinara, peppadew peppers, shallots & spinach
Smoked Tomato Fettuccini
Fettuccini pasta, wood-fired chicken, spinach, bacon, smoked tomato cream sauce
Carbonara
House made bucatini, wood-fired chicken, crispy pork belly, peas, creamy chicken jus. Topped with egg yolk and black pepper
Chicken Parmesan
Flash fried chicken breast with Italian breadcrumbs, bechamel & marinara, melted mozzarella, house made fettuccini
Shrimp Mac & Cheese
Fiore pasta, bacon, shaved Brussels sprouts, four cheese sauce, shrimp, toasted bread crumbs